MuscleTech continues its expansion of its Performance Series of products with the debut of Creactor!
Since their rebrand a couple years ago, MuscleTech has been pushing hard to bring new ingredients to the sports nutrition market. This one is no different, and it's in the same vein as last year's Clear Muscle supplement, which is discussed below.
It boasts a unique combination of creatine hydrocholoride (HCl) and free-acid creatine (something we haven't seen before).
Below we get into the ingredients, but first, you can sign up for alerts to get notified when the price drops:
Creactor - Best Deals and Price Drop Notifications
Get Price Alerts
No spam, no scams.
Creactor's Ingredients
MuscleTech has unveiled the ingredient label for Creactor and it's short and sweet: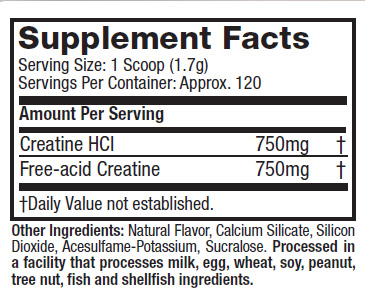 Creatine HCl (750mg)

Creactor takes a break from the traditional creatine monohydrate typically seen in creatine supplements and utilizes creatine hydrocholoride.  This unique form of creatine is concentrated and will anecdotally cause less bloating for those who have had that issue with regular mono in the past.

Free-acid Creatine (750mg)

If you've never seen this variety of creatine before, we won't hold that against you.  This is a rather new form of creatine that is the purest form of creatine.  Its free acid make-up means and salts, acids, or other impurities have been removed.

What you're left with is pure, unadulterated creatine goodness.This continues MuscleTech's trend of using free-acid forms of supplements, first seen with Clear Muscle, which hit the market in 2014 to rave reviews.
Is It Really More Effective?
Based on research conducting at the University of Nottingham, MuscleTech is making some pretty bold claims with Creactor.  Due to its purity and ease of mixing, it claims to regenerate your body's ATP stores more rapidly.  This is supposed to enhance recovery in between sets of anaerobic (weight lifting) exercise.
Research into the free-acid forms of supplements is scant at best.  We've first seen free-acid forms of supplements used in MT's Clear Muscle and we have a breakdown of it here. We'll have to wait until the reviews start coming in (or the clinical study is released) to see if Creactor lives up to its high-billing.
Who's it for?
Creatine, in any of its forms, is perfect for any bodybuilder, athlete, or fitness enthusiast looking to make the most of their training protocols.
One of MuscleTech's main selling points with Creactor is its number of servings per tub (2x the amount of competitors products).  Each tub boasts an impressive 120 servings each containing a total of 1.5g of creatine.
MuscleTech recommends 2 servings/day, so really you're getting 60 servings in Creator in order to get the need 3g of creatine/day to maintain saturation levels. Pricing hasn't been revealed yet so the jury is still out if this truly is a cost-effective alternative to other creatine products on the market.
Flavors Available:
Once Creactor hits the market, MuscleTech plans to offer a Lemon-Lime flavor and an unflavored option. Over time, we assume more flavors will be added, which you'll be able to see in the widget below:
Creactor - Best Deals and Price Drop Notifications
Get Price Alerts
No spam, no scams.
Stay up to date with MuscleTech
To stay up to date, there are plenty of options, either sign up above or head over to our MuscleTech page and click "Monitor this brand".
Signing up for MuscleTech products in general will get you new product release info as well as price drop alerts on all MuscleTech products.
Like this Post? We have more on the way…
PricePlow is a price comparison site that asks one simple question: is this worth it?
The honest truth lives here. Follow us on social media below: