https://blog.priceplow.com/podcast/elan-sudberg-alkemist-labs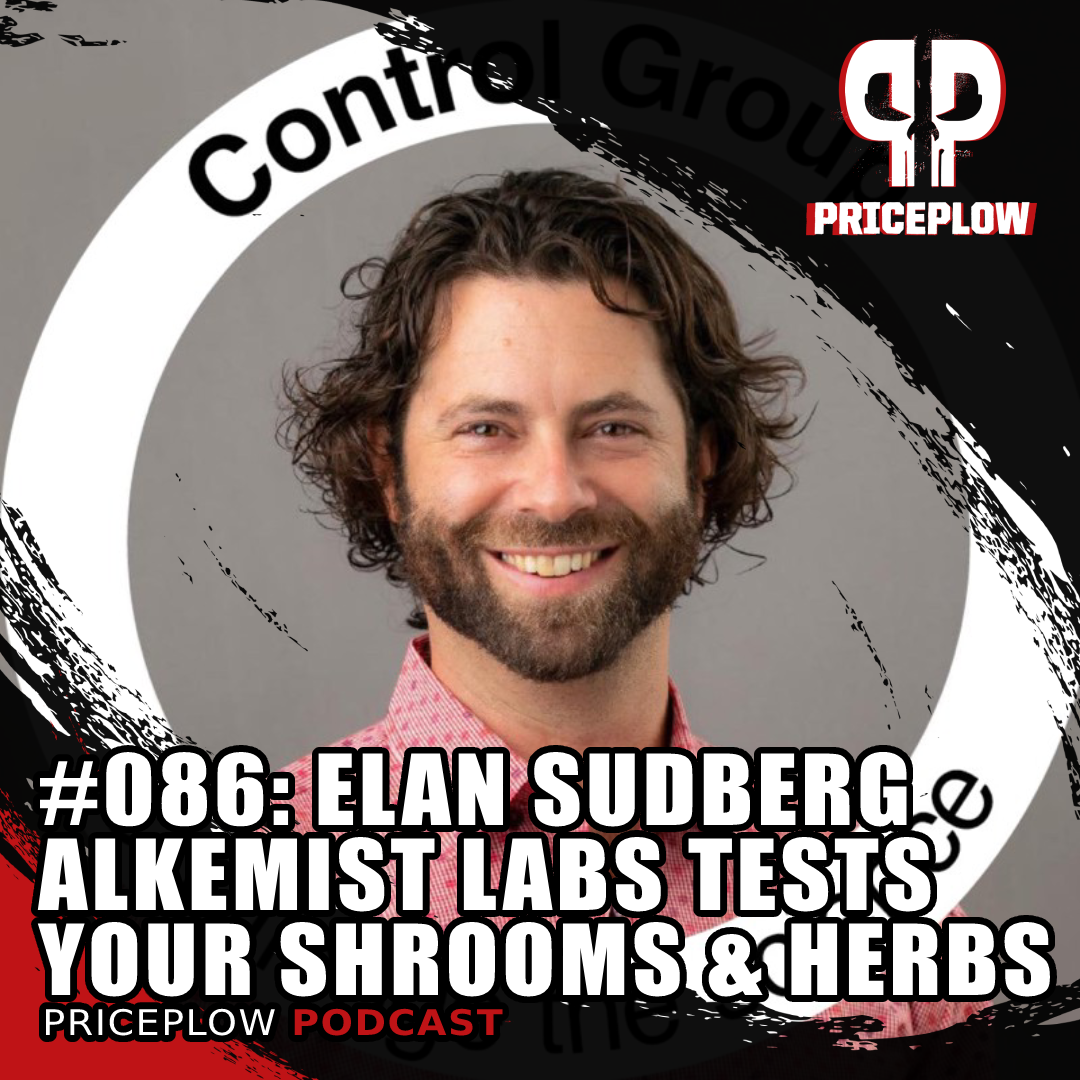 In early March of 2023, we hosted Elan Sudberg of Alkemist Labs on the PricePlow Podcast. Alkemist Labs is the place you go to get testing done on botanicals and mushrooms — they are even federally licensed to test psychoactive substances. They can be considered "plant and fungus cops".
In this episode, Elan educates us on the importance and challenges of botanicals testing, covering technologies like HPTLC and DNA testing and how to appropriately test new substances. We get into some of the market trends and challenges that arose in 2020, and then head into the psychedelic space, discussing cannabis, psilocybin, ketamine, the fentanyl crisis, vaping, and far more.
Finally, we ask what Elan would do if he were made emperor for a day, and he gives a pretty detailed answer that's indicative of the problems he sees in his corner of the world.
Great episode, we'll definitely have him back on in the future. Detailed show notes are below!
Audio Version:
Podcast: Play in new window | Download (Duration: 56:03 — 54.0MB)
Subscribe to the PricePlow Podcast on Your Favorite Service (RSS)
Show Notes: Talking Testing with Elan Sudberg of Alkemist Labs
0:00 – Introductions

Mike met Elan Sudberg of Alkemist Labs on LinkedIn. Alkemist Labs is a 26-year-old father-son owned testing lab. They bill themselves as a "plant and fungus cop"; they test all plants, fungi, as well as some psychoactive mushrooms.

2:15 – Testing Botanicals and Mushrooms

Alkemist works with 2000 different botanicals and fungi, but they don't test minerals, protein, and much else in the sports industry that doesn't include botanicals.

We're seeing a big boost in botanicals in sports nutrition, driven largely by the increased usage of nootropics.

3:30 – DNA testing

Alkemist spent a million dollars trying to be experts in DNA testing. A former (and disgraced) attorney general, Eric Schneiderman, attacked online gambling, student loan debt, and dietary supplements (see our 2015 article titled "Eric Schneiderman's Supplement Lab Tests: The REAL False Claims?"). The latter push led to flawed testing that led to big impacts against the industry.

75-80% of materials tested are extracts, leaving very little DNA. Alkemist shelled out a million dollars in equipment and training to try to employ DNA testing, but the original researcher who developed the technology went through a scandal, revealing some potential flaws in the tech.

So Alkemist mainly focuses on phytochemical or fungi chemical profiles, as opposed to DNA testing. However, some companies employ a combination of both strategies.

DNA testing also doesn't assess plant parts or quality.

7:10 – Testing Example: Cordyceps

What should be cared about in regards to cordyceps? Identity is critical. The first step is determining that you actually have cordyceps with HPTLC (high performance thin layer chromatography). There are two camps in the fungal world: the above-ground mushroom and the below-ground mycelium mass. Some brands think one is better than the other, and other brands mix everything together.

Identity is first, then comes potency testing, then contamination testing. There are rules about pesticide contamination, residual solvents for extracts (how much is left over from the original solvent), microbiological contamination, as well as metals.

10:30 – What is the main concern right now?

Quality is in the eye of the contract manufacturer. They can purchase any variety of compound and it can be poor quality. Best case scenario, the product doesn't work, and worst case scenario: people die. Elan gives the example of one product that was supposed to work on the gut, but worked on the heart instead, causing people heart problems.

Elan recounts another story about how last year, a congressman's wife died and the coroner blamed white mulberry leaf for the death.[1] The cause of death was ruled poisoning. A friend of his worked on a well-written rebuttal,[2] and took mulberry leaf every day while doing so – mulberry leaf has been used for centuries and is extremely safe. Nobody has died from herbal supplements, while hundreds or even thousands die from pharmaceuticals every day.

Herbal medicine has been under attack since allopathic medicine came around.

15:30 – Why is there so much discrepancy in the testing industry?

Plants are challenging, while chemicals are isolated. Plant chemicals are trapped with sugar and tannins and other substances.

The challenge is that there are labs that test everything – from tilapia to leather dies. There is too much generalization, and it's important to pick an area / genus. It's much easier to DNA test animals than plants. There's no true criteria for plants, but rather profiles that match other profiles in the archive. It's a very nuanced approach.

18:30 – Have you had to pioneer your own reference material?

Absolutely. Caffeine is an example. It's very easy to test pure caffeine. There are documented standards by which to test it. This is not the case when you put caffeine in with a bunch of other ingredients – there are no set standards and the profiles change, of course.

Substandard companies will appeal to ignorance and base their judgements on the paper trail, also known as: pure trust. Alkemist takes a hardline on verifying. They have a room in their facility called arboretum, with about 20,000 specimens from 2,000 species of herbs. It's climate controlled and provides knowledge and reference material for what herbs should look like upon testing.

Alkemist does have to develop methods of their own. They have so many plants that they're ISO credited for ALL plants.

21:30 – What if you don't have any background on an ingredient?

If there's no reference material, they have to go out and get it. They have botanists all over the planet. If you have a plant from Ecuador, the botanist can go out and collect samples in the wild. In absence of that, they can say "your stuff that contains X matches stuff in the market that contains X".

There has to be some kind of standard to test things, so you need to go get one if necessary.

24:30 – Ingredient companies with new ingredients

You can tell the quality of the contract manufacturer when they say "we have no idea how to test that". Meanwhile, other brands already have the ingredients on the market, suggesting that testing shortcuts were taken.

All the cheaters are going to keep cheating until they're caught, but the FDA testers are drastically understaffed. This is a very small minority of the industry, however.

Labs are constantly chasing innovation. The marketing teams are often the biggest problem. They get so far out ahead of the current processes and what can be reliably tested.

A lot of brands also chase what is sexy. For example, they'll put raspberry ketones in something at dosages far below therapeutic levels, which is pointless, and difficult to measure and test. Products are often challenged, and they can't back it up.

28:00 – Trends from the Testing Perspective

Since 2020, immunity ingredients have obviously been huge. They couldn't say at the beginning that vitamin D would help, but now reports are coming out. Things like elderberry are also huge. Alkemist was testing and failing a lot of elderberry due to supply chain issues, leading to adulteration going through the roof.

People were even taking actual reports from Alkemist and adulterating them. They sent three cease-and-desist letters to addresses in China, after which Alkemist was suspiciously hacked with ransomware. The FDA, FBI and DHS all showed up to investigate right in the spring of 2020 – a wild time no doubt.

Immune trends have not stopped. It's been "cold and flu season" for three years. Mushrooms are big too and have been rebranded somewhat leading to a huge uptick in usage.

In areas where a lot of money is being made, testing is more important than ever.

31:20 – Psilocybin

Elan has a lot of personal experience with psychedelics. Alkemist has a rare, federally granted right to test any plant, including psilocybin. The challenge is that they can only work with folks who have equivalent licenses.

They also test a lot of hemp, especially for the feds.

They've done some work on psilocybin for a company in Canada to make sure people have the correct material and strength. They've also worked with ayahuasca.

Unfortunately, it's not federally legal, meaning it's difficult for regular people and companies to get proper testing at a lab like Alkemist's.

35:30 – Psychadelic therapy, mostly ketamine

Ben notes that there are many psychedelic therapy clinics near him, almost all based around ketamine. Ben asks why ketamine is so popular as opposed to mushrooms.

Elan suspects that ketamine is easier because it's a pure pharmaceutical chemical and easier to test. Mushrooms have many more variables, making testing more difficult. Medical treatment and research requires consistent dosage and administration.

Elan thinks pharma will try to pull out the main chemicals from ayahuasca and sell it as more controlled chemicals in a therapeutic setting, which will not give the same experience as real ayahuasca. Pharma also enjoys subscription models, and psychedelics are not good candidates for such a model, leading to an incentive for synthetic distillations.

43:30 – Fentanyl Crisis

Mike asks Elan what he would tell a college kid about drugs. Elan mentions 250 pounds of fentanyl busted in Orange County near him just the other day.[3] That's enough to kill millions of people.

Elan recommends keeping it natural, and staying away from chemical street drugs. You just can't as easily identify white powder vs. a plant. There is a non-profit called DanceSafe,[4] that used to offer free ecstasy testing at raves, to help people make sure the ecstasy was real.

48:30 – Mystery powders

Tons of white powders are manufactured every day. Oftentimes manufacturers can just get a completely wrong shipment of powder. Foreign industry will sell absolutely anything, both good quality and terrible quality. Testing is what makes the difference – it's more important than ever. The FDA updated Good Manufacturing Practices (GMP) in 2007,[5] telling manufacturers to use "scientifically valid methods", not scientifically validated methods. So the FDA isn't necessarily forcing the right technique. It allows for a lot of questionable flexibility in the food and drug industries.

50:40 – Vaping industry

Elan tells a story about some guys who ordered drums of some chemical from China, put them into cartridges, where they were sold to kids. Vaping is essentially free-basing. Those chemicals affect your lungs, neurons, and much more. With vapes, you don't know what you're getting. For instance, the vitamin E acetate scare that gave kids popcorn lung.[6]

Additionally, vaping isn't very well-regulated at all. Ben isn't convinced that vaping is any better than tobacco. Elan argues it's worse than smoking because there are so many unknowns.

With cannabis, we've moved from smoking the flower with fire to making it edible with oils to extracting it and freebasing it with vape cartridges. This isn't the best path to take, but we've smoked the flowers for thousands of years.

When it comes down to it, testing and data are the most important things in industries with little regulation and thousands upon thousands of products.

"Transparency is the vehicle for which trust is communicated" — Scott Steinford.

55:00 – Elan as Emperor for a Day

What would Elan change if he was made emperor for a day?

He would have the FDA dictate exactly what methods to use for exactly what tests. There should be specific methods that are fit for purposes. We shouldn't be allowing light boxes hooked up to phones as testing. So he'd go for specific testing procedures.
Where to follow Elan
Thanks to Elan for such a great conversation! We plan on having him back on to discuss a few detailed topics (possibly alongside some other experts) in the future. To get notified, you can sign up for PricePlow's alerts on Elan and Alkemist below:
Subscribe to PricePlow's Newsletter and Alerts on These Topics
Subscribe to the PricePlow Podcast on Your Favorite Service (RSS)