If you're signed up for any price drop alerts on some of our best fat burners or our supplement deals page, you may have noticed that i-Supplements has been aggressively pricing some popular products lately.
After we launched our coupons integration[1], we got in touch with a few stores to get those exclusive coupons. We began talking with i-Supplements, who was happy to get a little bit crazier on the coupons than anyone else:
First i-Supplements Coupon Code: Get 10% Off Sitewide
The first coupon code is linked above, and it's 10% sitewide!
What's even better is that it's not a "one-time per user" coupon like our other exclusive sitewide coupons we have. This one is the real deal – use it as much as you want!
After we posted it, there were instantly a ton of price drop alerts sent out, as this created some great new low supplement prices on several products.
That caught the store's attention, so they decided to give even more coupons!
Second i-Supplements Coupon: 15% off Ephedra Products
i-Supplements is one of the top Ephedra sellers out there, and with this 15% off coupon, their prices are basically unbeatable:
We've discussed them a bit before on our Best Fat Burner Buyer's Guide, and many of the consumers have spoken — they want it.
This is a brand new coupon as of March 2015, and we figured it was time to share it in a blog post, not just in our system.
However, there's one more limited-time coupon that we're sharing:
Third i-Supplements Coupon Code: 25% off HydroxyElite
One product that's caused quite the stir is Hi-Tech Pharmaceuticals' HydroxyElite. This is a new fat burner in 2014 that is basically an OxyELITE Pro clone – with DMAA and all!
You can read the post above for the full story (Hi-Tech and the FDA are battling it out legally), but until then, this increasingly popular fat burner is for sale.
And nobody has a better deal than iSupplements, especially after the new coupon code they've offered us:
But you'll have to hurry — this one is only valid through March 16, 2015!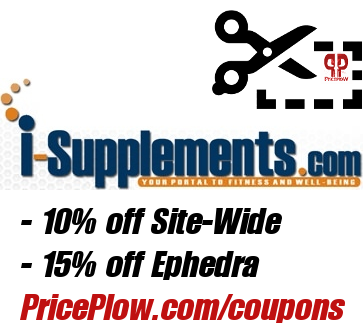 As a note, the main PricePlow site will show the best deal available for a certain product when sending you out to the store. If there's a coupon code available, it will choose the best coupon it can find.