Ever since it was announced, we've been excited about Myofusion Advanced.
On the blog post linked above, you can read the details behind the ingredients and the backstory. Gaspari are the kings of flavoring, and there was no protein label trickery[1] on this one, hence our excitement.
But today we're here to drop down our official review after about a week of use. But first…
Important Links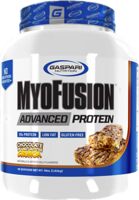 Mike's Gaspari Myofusion Advanced Review
First, you gotta see it in action to believe it. The smoothness in the mix with water is unparalleled:
Video Review
Taste (Chocolate): 9.5

The picture to the right says it all.

For being a "straight chocolate" flavor with no "frills" added like cookies or a zillion carbs, I really don't see how you can get much better. It's just downright great chocolate. This is better than the chocolate shakes you grew up with as a kid.

Protein has come so far along, and it feels like we've reached a peak here. I'm not sure how you can do much better, to be honest. It's nearly perfect.

Much of it is helped by the texture and mixability (discussed below). They are what help boost the flavor too, because there's hardly any grit or anything annoying to bring the flavor profile down.

I'll need to try vanilla and the other flavors, but as far as standard chocolate goes, this is going to be hard to top.

Mixability: 9

In water

…the mix is absolutely incredible. Just LOOK at the picture to the right!

This isn't some professionally mixed stuff that you can't replicate at home without a ton of machinery. It's some normal dude (me) mixing it in an old shaker cup for 10 seconds and pouring it into a glass!

I recommend 6oz water.

In milk

(2%) – I first had a touch more grit and frothiness exposed. I might have overshaken it — I normally don't do milk, so I'm a rookie here.

However, as noted at the end of my video, when it settled, it became downright phenomenal. As it should!

I I recommend 8oz milk.

In oats

…unfortunately, it's not as good for me. I think I need to add more water to my mix.

To be fair, I've never really liked any chocolate protein in my oats… I'm more for vanilla or cinnamon when it comes to making proats. So maybe the other flavors of Myofusion Advanced will review better in oats.

But if you're a chocolate protein oat guy, I think this one only comes out marginally better than some of the others. I'd go vanilla in that case.

Profile: 8.5

This is tough to grade… obviously we all want 25g of pure isolate protein with 0 carbs and 0 fat and we want it for free. But we're not going to get that with the taste explained above and the prices we're seeing.

So, back to the real world…

The macronutrients

Protein: 25g
Total Fat: 2.5g (1g saturated, likely from coconut oil [good])
Total Carbohydrate: 5g (1g fiber, 1g sugar – other non-cocoa flavors will probably be different)

That's from the chocolate label

The Protein breakdown

Whey protein concentrate
Milk protein concentrate
Whey protein isolate
Micellar casein
Whey protein hydrolysate

If you've been around protein labels for a while, it's easy to see why it mixes well. The concentrates are first, followed by the isolates, and then casein for a dash of extra thickness.

Consider it a great blend of thin and thick that comes together so well.

But if you're lactose intolerant, those concentrates are going to mess you up. If you're lactose sensitive, this might just be a 1-1.5 scoop per day treat and you can get away with it.

Here's why I like this profile:

No amino acid spiking
Coconut oil based creamer – no animal gelatins
Extremely low fat and low-carb considering how smooth it is. You'd expect this stuff to have 3x more fat if you were drinking it blind!
The protein mix clearly works

At the same time, there are some fillers like maltodextrin and the creamer blend, so if you want the most uber-clean protein ever, this isn't it.

But is that little bit of filler worth the taste? Without a doubt.
Overall, this is majorly PricePlow Approved.