https://blog.priceplow.com/podcast/ken-huntly-gnc-merchandising-110
Team PricePlow recently traveled to GNC headquarters in Pittsburgh, PA to support the Kaged Elite Series launch, the largest product launch in the retailer's history with a whopping 27 SKUs.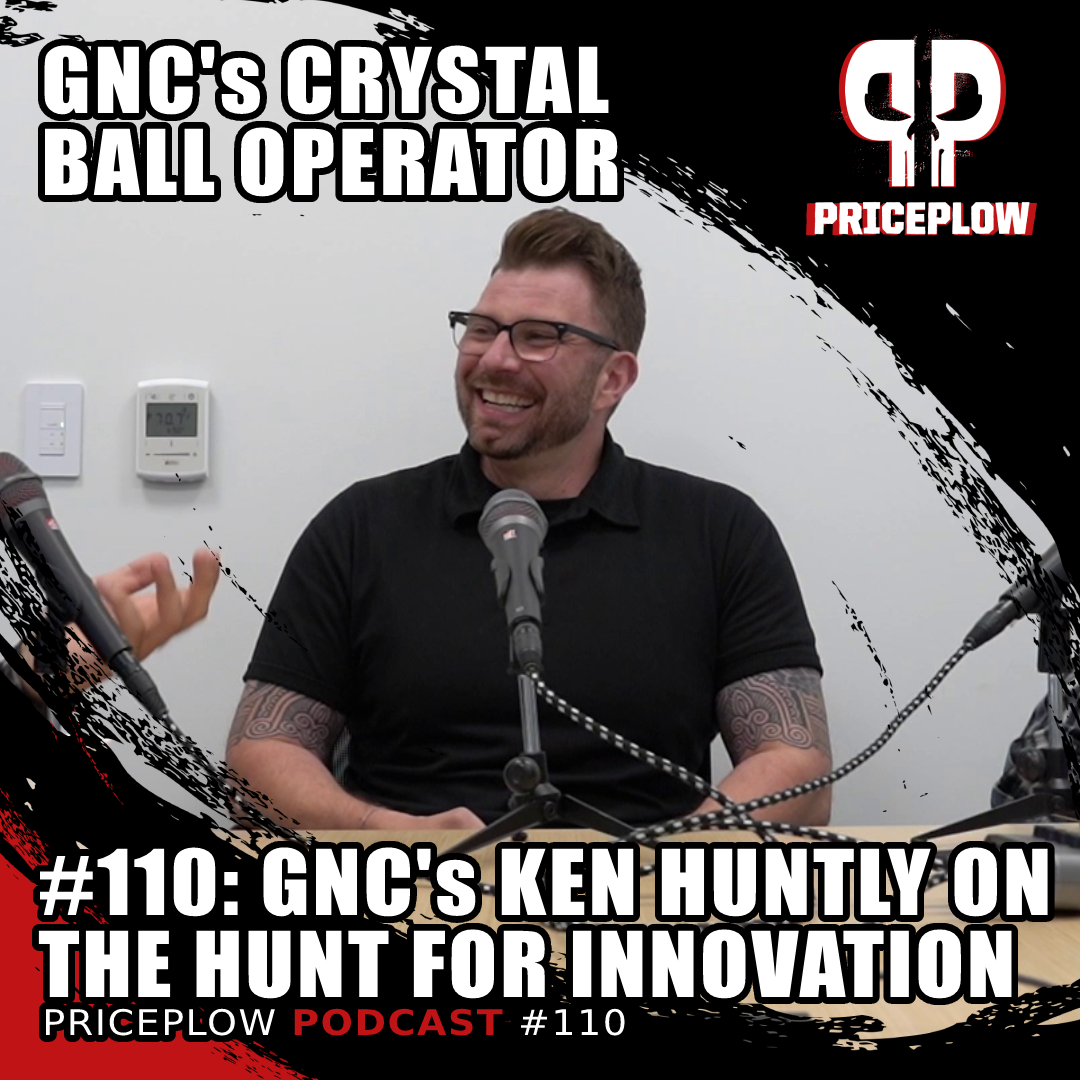 In Episode #098, Ben interviewed GNC's Nate Frazier (Chief Operating Officer) and Kenneth Huntly (VP of Merchandising) at the company's 2023 Franchise Convention. However, that was a quick conversation, so this time, we had to do it again with Ken, zeroing in on his hunt for innovation and collaboration.
Ken brings more than 20 years of experience in merchandising to the role, and has hit some grand slams lately, so it's always great to get a chance to pick his brain. Aside from Kaged, we talk about other things they're excited about, spending some time discussing the recent Marvel collaboration in GNC's Pro Performance 100% Whey Protein.
There are other exciting new brands heading to GNC, including Raw Nutrition and an exclusive on CBum's Thuper Thavage pre-workout supplement.
Detailed notes are below, and you can watch on YouTube or listen on your favorite audio podcast app:
Podcast: Play in new window | Download (Duration: 40:52 — 56.1MB)
Subscribe to the PricePlow Podcast on Your Favorite Service (RSS)
Watch on Video: On the Brad Hunt with GNC's Ken Huntly
Detailed Show Notes: On the Hunt for Innovation at GNC
0:00 – Introductions

Mike inquires about Ken's journey to his current position, especially considering there's no formal educational path specifically into supplements. Ken reveals his background in merchandising in apparel and accessories before moving to GNC where he initially worked on the wellness side overseeing different categories such as health and beauty. Eventually, he took over the sports side of the business which Ken sees as a better fit for him given his personal history with fitness and being a long-time GNC customer.

2:00 – A Retailer's Challenges from a Buyer's Perspective

In this podcast segment, Ken discusses the challenges he faced as he transitioned into his role at GNC from a background outside of the nutrition and supplement industry. Coming from the apparel and accessories sector, he had to climb a steep learning curve to understand the scientific and technical aspects of products that are ingested, rather than worn. He highlights the parallels in business operations across different industries, noting that despite the different products, there are similarities in how businesses are run.

The conversation then moves on to the licensing landscape in the supplement industry, with Ken recounting his surprise at the lack of collaborations when he initially joined GNC. He shares the journey of working with Ghost Lifestyle, emphasizing that licensing should not just be about tweaking flavors and changing labels; it needs to offer something more substantial to consumers who have become more refined in their expectations.

He also cites the example of their collaboration with Marvel (in GNC's Pro Performance 100% Whey), which took two years to bring to market, focusing on intricate details to bring an authentic product that not only had great flavors but encapsulated the essence of Marvel through aspects like packaging and launch strategy, involving easter eggs that hint at things to come, to foster a deeper connection with consumers.

Lastly, the discussion veers towards the intricate process of working with larger brands such as Disney, outlining the stringent guidelines and nutritional standards they adhered to while developing products in partnership. Ken shares insights on the intentional strategy behind launching the Marvel collaboration at Comic Con to engage with the dedicated fan base and bring new customers to GNC.

With regards to the Marvel collaboration, Ken highlights that the fans often choose products based on their favorite character before even considering the flavor. Captain America is currently the best-seller, featuring a Star Spangled Birthday Cake flavor, and it closely ties in with other notable celebrations, including Disney's 100th anniversary, providing additional leverage for their launch.

12:45 – GNC Kaged Partnership

The conversation then transitions to GNC's partnership with Kaged. The excitement for Ken revolves around the careful and intentional approach GNC is taking with the Elite Series, avoiding a rush to saturate the market with new products and instead focusing on meaningfully expanding the series with updated ingredients, effective formulations, and engaging packaging. The Elite Series underlines a symbiotic relationship where both GNC and Kaged leverage each other's strengths to create a product line that stands tall in terms of quality and consumer relevance.

Ken details the iterative development of the Elite Series, which grew from a discussion about a single product to a comprehensive series with 27 SKUs, each having a distinct reason to be on the shelves. This move, described as unprecedented in Ken's seven years at GNC, highlights the trust and potential they see in Kaged's formulation capabilities and the respect Kaged commands in the industry.

20:30 – GNC's Latest Products

Moreover, Ken expressed anticipation over innovations in GNC's Beyond Raw and Pro Performance Line brands, pinning hopes on the latter as a gateway for novice consumers entering the wellness and sports nutrition space, given its affordability and trusted reputation among parents and young athletes.

In this segment of the discussion, Ben, Ken, and Mike focused on GNC's different lines of products, including the newly introduced Tri-Phase Pre-Workout, which is a part of GNC's AMP brand. They also talked about the offerings under the "Beyond Raw" brand, mentioning specific products like Dynamic Whey and Dynamic Gainer.

Ken mentions that GNC aims to have their brands work in harmony with third-party products rather than competing against them, thereby offering a wide range of choices to meet various customer preferences and needs. He noted that GNC has products that cater to consumers at different levels, including those looking for advanced benefits as well as those seeking basic, value-oriented products.

25:00 – Long-term relationships

Ken discusses new, exclusive offerings arising from collaborations with both RAW Nutrition and RYSE Supps (GNC was actually one of the first retailers to carry Ryse products, but they've been bigger in Vitamin Shoppe lately). Ken foreshadows fresh and unique products coming down the pike from these brands.

Mike probes, asking whether this novelty relates to flavor or formulation. Ken notes that it's a bit of both, depending on the brand and partnership dynamic. GNC prefers a more personalized approach to partnerships, rather than relying on cookie-cutter relationships with everyone.

Ben shifts gears towards discussion of so-called "Tik-Tok brands", arising to meet the demands of a younger generation. He suggests that offering exclusive products and experiences can get more feet in the door at GNC stores. Though he mentions that GNC isn't interested in simply being a "Me Too" store, in which only trendy products are stocked. GNC ventures to bring a more thoughtful approach to their customers.

30:30 – Retail involvement in viral marketing and trends

As an extension of the rise of "viral marketing" and social media, Ben notes that trends are cycling through the market at a rapid clip. For example, Ben says that he noticed Berberine on a GNC display shortly after seeing it on TikTok. Ken and Ben discuss the complexities of navigating the new trending paradigm, and that it's a risky proposition to structure a business around solely what is trending. Ken believes that capitalizing on trends should constitute a small part of GNC's business, rather than run front-and-center.

Ben agrees with this point of view by adding that over-focusing on momentary trends can hinder progress in the long run. GNC's approach with respect to long-term partnerships is a welcome respite from the fast-based social media realm. Ken certainly agrees, attributing GNC's nearly 90-year success to this approach.

33:30 – The importance of good data

Ken goes into detail on the collaboration between GNC and SPINS (flashback to Episode #082 with Scott Dicker), a data reporting system that provides sales data from various retailers, including Vitamin Shoppe. Ken emphasizes the importance of having a clear view of the broader market through data analysis, which allows GNC to make more sound, data-driven decisions.

Mike proposes a scenario in which he can conjure an influencer to send a mass of their followers to GNC stores – in this case, what is Ken's ideal demographic. Ken notes that this is a challenging question, given the diverse range of demographics that frequent GNC stores. He notes how the most glaring demographic gap is between wellness products and things like pre-workouts – with age being the primary delimiter, and notes that what he'd ultimately like from an influencer is a willingness to cultivate long-term audience relationships.

Mike echoes this sentiment, noting that "time in the market beats timing the market".

37:00 – Energy drinks, functional foods, and RTDs

Ben transitions to the topic of the diversity in GNC's product range. Ben acknowledges that while sports nutrition may be the "sexy" market, much of GNC's portfolio is dedicated to general wellness and healthy living. Ben wonders if this creates a split in focus.

Ken does not see any such split, remarking that there is increasing crossover between these two product categories. Brands are just now catching up to the idea that athletes are also looking for general wellness products.

Mike switches topics to energy drinks and functional foods. Ken is excited about these categories and thinks they have a lot of room to evolve, hinting at future developments at GNC. Mike transitions this into a discussion on how GNC curates energy drink products. Ken says that it's critical to not simply stock shelves with the most diverse range of products – rather, energy drinks that GNC carries should meet certain standards with respect to taste and functionality.

Ben brings up GNC's Beyond Raw LIT On-the-Go products, and emphasizes some of the awesome products and flavors to come out of this project. He thinks they should be getting a lot more attention than they are. Ken teases some new developments on the RTD front, without mentioning specifics.

Mike wraps up with appreciation for Ken's time, and expresses an eagerness to hear more about new developments.
Important Links
Thanks to Kaged and GNC for having Team PricePlow at both the 2023 Franchise Convention and for the epic Kaged launch! You can subscribe to the PricePlow Podcast on the podcast app of your choice.
Subscribe to the PricePlow Podcast on Your Favorite Service (RSS)