Over the past few years, the supplement gurus at Revive MD have proven themselves to be as versatile as they are innovative. Despite their success in recruiting elite athletes to the company's sponsor team, like professional strongman Hafþór Júlíus Björnsson and UFC heavyweight champion Stipe Miocic, Revive MD has avoided being pigeonholed as solely a sports-performance nutrition company.
With offerings like Revive MD Lipid, Revive MD Prostate, and Revive MD Women's Health, the company is leading the supplement industry's charge for a holistic approach to supplementation, one that emphasizes health and wellness at least as much as it does sports nutrition.
One thing we love about Revive MD is that it's one of a handful of supplement companies that's constantly tweaking its existing products, doing frequent reformulations based on new research and consumer feedback.
Revive MD Daily Greens: Constantly Evolving
Back in 2020 we covered how Revive MD tweaked their Daily Greens formula – besides changes to the ingredients, we also saw the company move away from capsules and use powder servings instead.
If you want to read the product review we published back then, check out our blog post Revive MD Daily Greens: A Nutrient Powerhouse.
This reflects an industry-wide change driven by flavor innovation: as flavors get better and better, manufacturers are realizing it's more efficient for consumers to forego capsules altogether. The main benefit of capsules, after all, is that you can painlessly supplement with healthy stuff that might not taste so great (liver capsules anyone)?
Flavors Are Getting Even Better: Daily Greens Espresso
Typically when greens powders are flavored, we see something like berry blast or ice lemon, along the lines of fruits and vegetables, but with an emphasis on fruit.
So imagine our surprise when Revive MD announced an espresso flavor for their Daily Greens!
It's all covered below, after we check on availability and sign-ups for Revive MD news alerts:
Revive MD Daily Greens – Deals and Price Drop Alerts
Get Price Alerts
No spam, no scams.
Disclosure: PricePlow relies on pricing from stores with which we have a business relationship. We work hard to keep pricing current, but you may find a better offer.
Posts are sponsored in part by the retailers and/or brands listed on this page.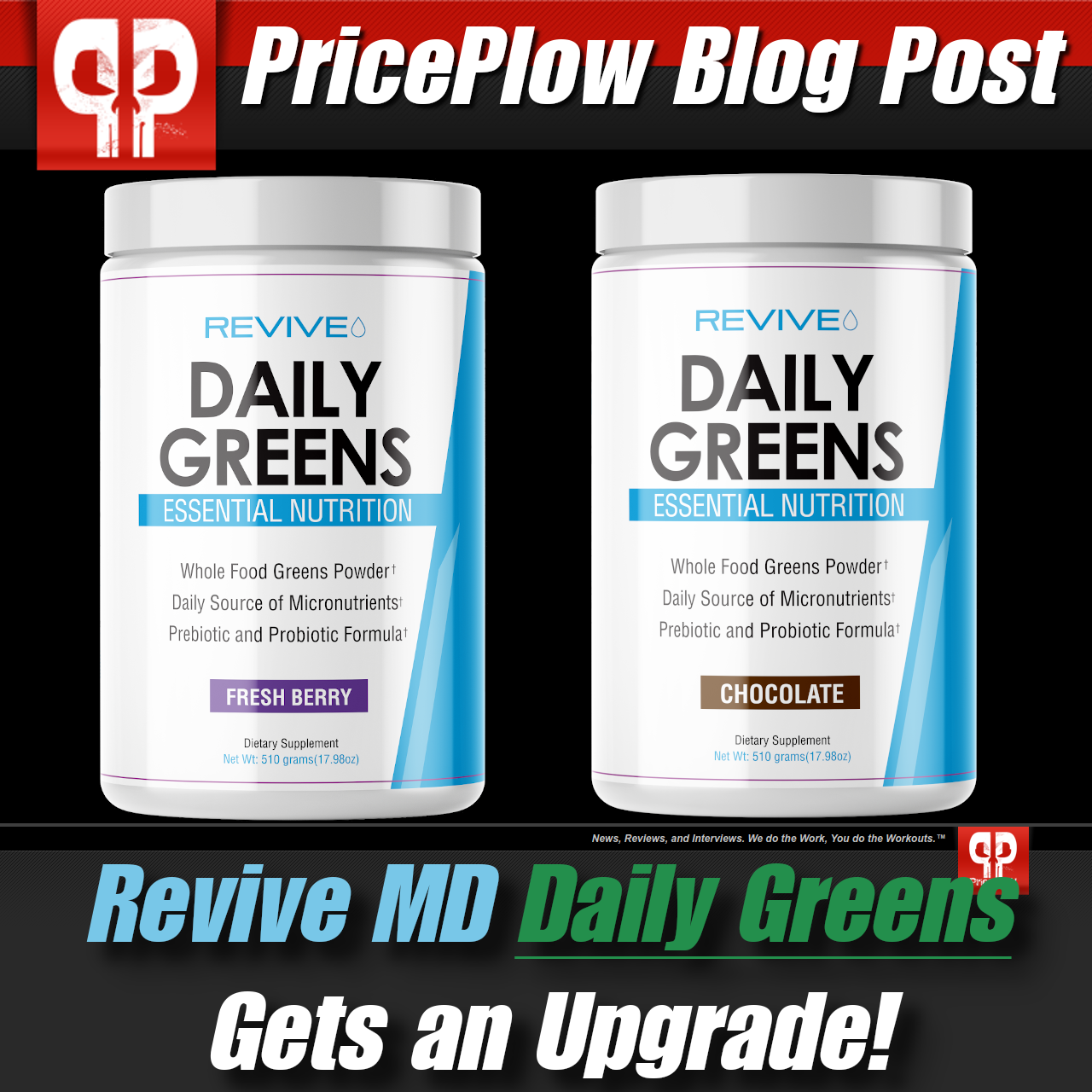 We think this might actually be a minor revolution in greens supplementation. Nutritionally speaking, there's almost no better way to start your day than loading up on an antioxidant, anti-inflammatory, probiotic micronutrient powerhouse like Revive MD Daily Greens. If the flavors typically used might not be what you want to taste first thing in the morning, this new flavor may be a game changer.
What better solution for this than a greens supplement that tastes like your morning cup of Joe?
We haven't tried it heated-up yet – but maybe that should be the subject of a future PricePlow blog or video…
Revive MD Daily Greens Ingredients
If you didn't catch our comprehensive product review of the new-and-improved Revive MD Daily Greens formula (hyperlinked above), here's a brief recap with a focus on how the ingredients in a single 1-scoop serving actually work:
Digestion and Fiber

Inulin (FOS) (Fructooligosaccharides) – 3g: Positively modulates gut flora by promoting symbiotic bacteria growth in your stomach.[1,2]
Ground Flaxseed Powder – 1g: Anti-inflammatory, antioxidant, improves lipid profile, lowers blood pressure and protects the cardiovascular system and the brain. Anti-diabetic, neuroprotective and anti-carcinogenic effects. Encourages growth of good bacteria in the digestive tract.[3]
Chia Seed – 1g: Anti-aging, anti-carcinogenic, protects the liver and the heart. Chia seed consumption can have positive effects on hypertension, diabetes, and dyslipidemia.[4]

Greens Blend

All of these ingredients are extremely high in chlorophyll, which can significantly upregulate catalase, superoxide dismutase, and glutathione, the body's endogenous antioxidant defenses. Can also buffer lactic acid by alkalizing and improve athletic performance.[5] May improve immune function and increase energy levels.[6]

Organic Wheat Grass – 800mg
Organic Spirulina Grass – 800mg
Organic Alfalfa – 400mg
Organic Barley Grass – 400mg
Spinach Powder – 100mg
Organic Broccoli Powder – 100mg
Organic Broccoli Sprout – 100mg
Fermented Kale Powder – 50mg
Organic Chlorella – 50mg
Kelp Powder – 50mg

Anti-inflammatory & Longevity

Fermented Turmeric Powder – 200mg: Anti-carcinogenic, anti-microbial, antioxidant, anti-mutagenic, and anti-inflammatory. Often used to help manage conditions associated with chronic inflammation and oxidative stress, like anxiety, hyperlipidemia, prediabetes, and arthritis.[7] May also protect the liver.[8]
Organic Astragalus – 200mg: Renowned in traditional Chinese medicine for its immune-boosting properties. Also a powerful antioxidant and anti-diabetic substance.[9] May help prevent gastrointestinal inflammation.[10]

Other Vegetables

Tomato Powder – 150mg: Rich in lycopene, a potent antioxidant carotenoid that gives tomatoes their red coloring and is of particular importance for male sexual health.[11,12]
Carrot Powder – 100 mg: Rich in the antioxidants quercetin, luteolin, and kaempferol.[13] Rich source of provitamin A.[13]

Reds

These ingredients are rich in anthocyanins, a class of plant pigments on the red, blue, and purple color spectrum that have anti-inflammatory, anti-carcinogenic, anti-microbial, cardioprotective, and anti-diabetic properties.[14-17] Anthocyanins are also capable of increasing nitric oxide (NO) production, a gaseous molecule with enormous benefits for the cardiovascular system because of its ability to induce vasodilation.[14-17] Anthocyanin-rich foods like berries may aid recovery following exercise.[18,19] Anthocyanins also seem to be of particular benefit for brain health.[18,19]

Organic Strawberry Powder – 50mg
Raspberry Fruit Powder – 50mg
Cherry Powder – 50mg
Blackberry Powder – 50mg

Other Fruits

Organic Apple Powder – 50mg: Rich in flavonoids and phenols like catechin, chlorogenic acid, quercetin, and phloridzin. Apple consumption is associated with a lower risk of cancer, asthma, diabetes, and cardiovascular disease.[20]
Kiwi Powder – 50mg: Kiwi consumption has been shown to enhance immune function and reduce asthma symptoms.[21,22] Kiwis are also high in actinidin, a digestive enzyme that can improve gastrointestinal function,[23] and fiber and pectin, which are great prebiotics.[24]
Pineapple Powder – 50mg: High in bromelain, a protease enzyme with anti-inflammatory, anti-thrombotic, antiedematous, anti-carcinogenic, and fibrinolytic properties.[25] A 2012 research review found that bromelain may be effective in the treatment of bronchitis, sinusitis, cardiovascular disease, diarrhea, and angina.[25]

Revive Probiotic Blend

Revive MD Daily Greens also contains over 25 billion colony-forming units (CFUs) of probiotic bacteria, defined as symbiotic bacteria that improve the balance of microbes in the digestive tract.[26] Probiotics have indirect effects on several bodily systems and diseases, like gastroenteritis, inflammatory bowel disease (IBS), and cavities.[27]

You may wish to learn more in our huge Revive MD Gut Health Stack article, specifically the part about Revive MD Probiotic.
Daily Greens Available Flavors
If you're stoked about the new espresso flavor but would still like to sample some of the other flavors, check out our list of Revive MD Daily Greens flavors. And be sure to check back because this list is updated whenever a new flavor is released: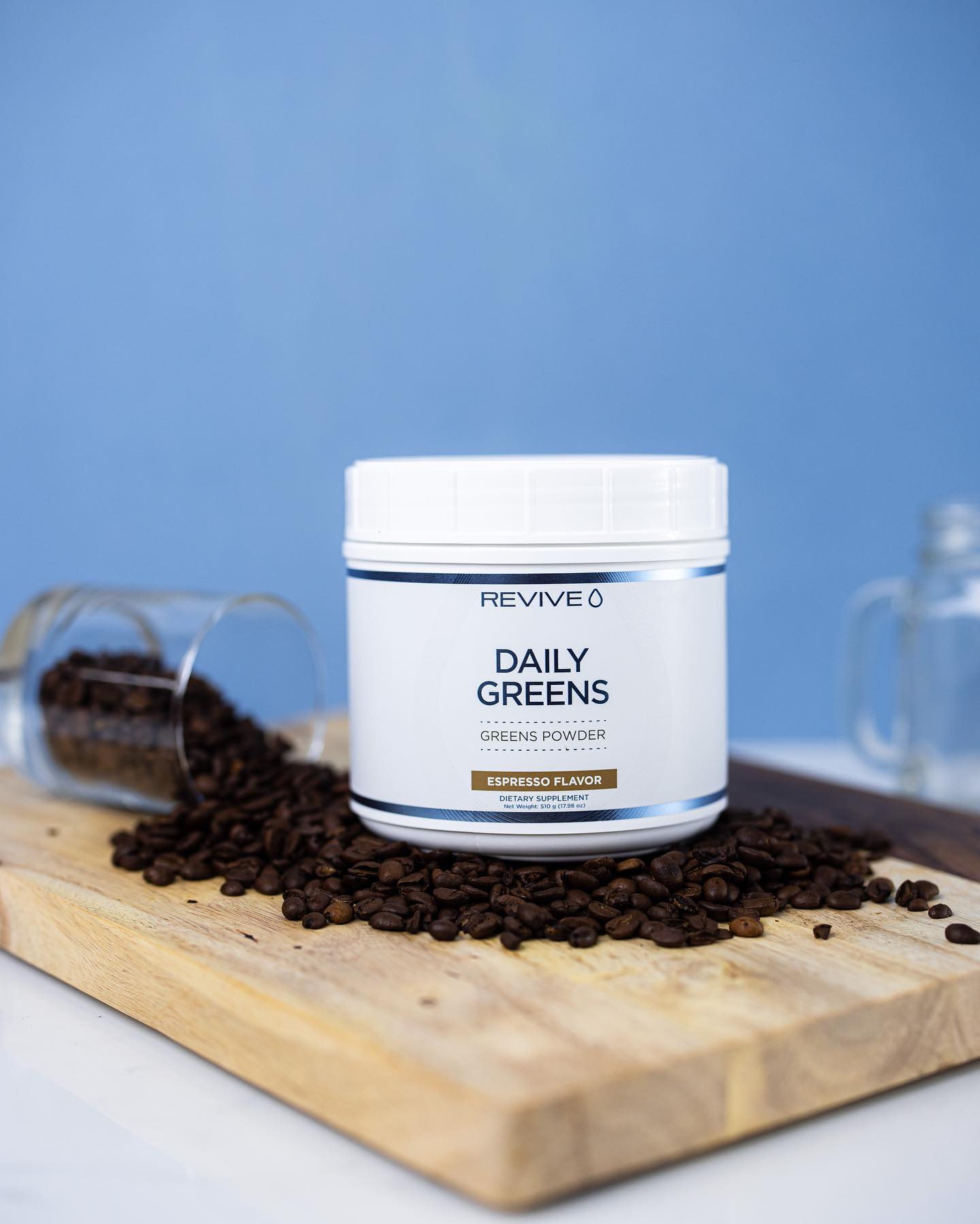 A smart flavor for a smart product
Espresso Daily Greens just makes sense — many greens consumers drink them in the morning, right there alongside their morning coffee. This allows for incredible smoothie mixes and a familiar taste for the palate.
We've long been a big fan of this formula, especially with the diverse blend inside. The probiotic addition is a smart addition, and as we know, Revive MD leans heavily on gut health (see our Revive MD Gut Health Stack).
Stay tuned to more from Revive, there's a few cool additions coming!
Revive MD Daily Greens – Deals and Price Drop Alerts
Get Price Alerts
No spam, no scams.
Disclosure: PricePlow relies on pricing from stores with which we have a business relationship. We work hard to keep pricing current, but you may find a better offer.
Posts are sponsored in part by the retailers and/or brands listed on this page.