Primeval Labs is not a brand known to go half-throttle. Whether you're slamming down some Ape Sh*t MAX pre-workout, or trying to melt away the pounds with Ape Sh*t Cutz, you can be sure you'll be met with a level of intensity unmatched by most in the industry.
We even recently remarked on their use of pomegranate, an ingredient we think is massively slept-on due to its wide range of benefits, from its antioxidant properties to its testosterone-boosting power.
A Primeval Labs "Touch-Up" is Here
Last month on Episode #087 of the PricePlow Podcast, we went into a deep-dive with Taylor Knox from NutraMedia, the brand-building kings in the supplement industry. He went into detail on a new branding campaign for Primeval Labs – they're getting a bit of a makeover and taking a step forward from their normal, dark coloring scheme.
Primeval is freshening things up and turning to the lighter side, so to speak. Shown in some of the images below, you'll see that new tubs have the product name in white, surrounded by contrasting colors to help pull the text out without black font. It's not so different that we'd call it a "rebrand", but it's certainly an update.
You can see this on @PrimevalLabs on Instagram in their new Sour Apple Candy EAA Max flavor and the updated Primeval Labs Whey images:
So some of the products have already switched over to the new labeling scheme. We dig the new look – it makes their products look cleaner and sleeker.
And on that note, it looks like a new Caramel Latte flavor of Whey is coming as well: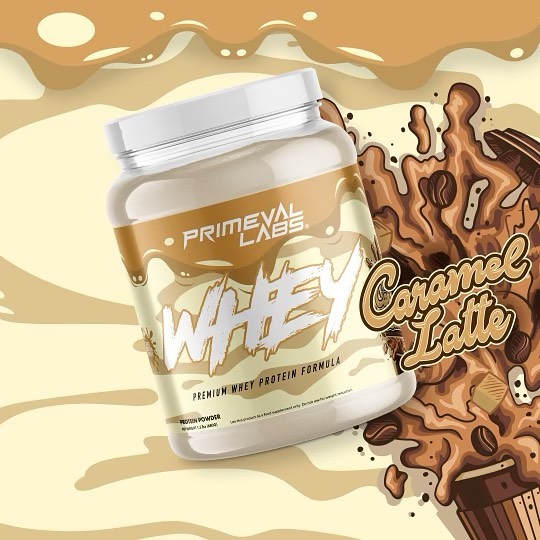 At the time of press, this new flavor isn't out yet, but Primeval always puts their best foot forward with taste profiles, so we're excited to see how this one shakes out. You can stay tuned for more Primeval Labs news on PricePlow – they're sure to keep releasing absolutely bonkers formulas with a solid flavor menu.
Primeval Labs – Deals and Price Drop Alerts
Get Price Alerts
No spam, no scams.
Disclosure: PricePlow relies on pricing from stores with which we have a business relationship. We work hard to keep pricing current, but you may find a better offer.
Posts are sponsored in part by the retailers and/or brands listed on this page.