April seems to be the month of homecoming over at Ghost. This past week we got word that the extremely popular TMNT collab would be back with a new Shredder flavor of Ghost Burn Black, along with the return of their OOZE flavor in the other four Teenage Mutant Ninja Turtles supplements.
But that's not all for familiar returns in the Ghost catalog. Summer is fast approaching, and that means that Ghost is back with one of our favorite flavors: Iced Tea Lemonade.
Ghost Greens Iced Tea Lemonade is Back for Earth Day!
We recently Ghost's co-founder and CEO Dan Lourenço on Episode #088 of the PricePlow Podcast, where he talked about Ghost's grand plans for 2023. This included the release of Ghost Legend V3, which we are beyond pumped for. But wellness is a big part of Ghost's plans too, which is where Ghost Greens fits in.
While Ghost has some killer formulas, the thing that's really propelled them to the heights of the industry is their flavoring process.
Iced Tea Lemonade: Summertime Satisfaction
Iced Tea Lemonade is not brand new. In fact, Ghost has routinely released it in limited batches – and every time it causes a bit of a mad dash for the order button. It makes sense… the flavor is the perfect combination. Cool, refreshing, and manages to mask the less-satisfying flavor of kale contained in a Greens powder.
We're going to dive into a little summary on how Ghost Greens works, but first, let's check the PricePlow for good Ghost deals, and check out our video review of the new flavor:
GHOST Greens – Deals and Price Drop Alerts
Get Price Alerts
No spam, no scams.
Disclosure: PricePlow relies on pricing from stores with which we have a business relationship. We work hard to keep pricing current, but you may find a better offer.
Posts are sponsored in part by the retailers and/or brands listed on this page.
Ghost Greens – How It Works
You can read the full story in our article titled Ghost Greens: The Legends Foray Into Overall Health and Wellness, but below is a solid synopsis of the product:
Ghost Fruits X Vegetables

Super Greens – 4340mg

Let's face it: your mom was right. Greens are important – they are loaded with various micronutrients essential to the body, like Vitamin C, and Vitamin K.

Research has even shown that the nutrient density of greens can slow cognitive decline in aging. To ensure that greens are part of your diet, Ghost Greens contains a complex of greens, including kale, matcha, broccoli, and spirulina, an algae with a fantastic antioxidant profile.

Antioxidant Reds – 2200mg

Red fruits, like blueberries and cranberries, are also rich in vitamin C, but the strength of reds comes from their strong antioxidant profile. Red fruits are packed with various polyphenols and anthocyanins, each of which has its own benefits. For example, lycopene reduces disease-related oxidative stress, quercetin improves bioavailability of vitamins and minerals, and zeaxanthin protects eye health, working alongside lutein.

Spectra Total ORAC Blend – 100mg

Spectra™ is a potent fruit and vegetable blend from FutureCeuticals that complements both the green and red foods mentioned above. Spectra™ contains a mixture of both types of foods and individual extracts like coffee arabica, green tea, and apple, which enhance the effects of Ghost Greens.

Ghost Gut Health

Inulin (Prebiotic from Chicory Root) – 2000mg

Inulin, a prebiotic fiber derived from chicory root. As a fructan, it's a long chain of fructose molecules that function as fiber and pass through the small intestine to keep digestion moving. Unlike fructose, fructans don't get broken down in the small intestine. Inulin enhances digestive health and research has shown that the body responds well to it.

Moreover, inulin has a natural, sweet taste, making it a useful ingredient in a product like Ghost Greens that aims to boost overall health while maintaining great flavors.

BioCore Optimum Complete – 110mg

BioCore is a digestive enzyme blend created by Deerland Probiotics & Enzymes that helps the body to properly absorb and utilize the nutrients in Ghost Greens. BioCore contains the following ingredients:

Amylase (from Aspergillus oryzae) – 3500 DU
Alpha-Galactosidase (from Aspergillus niger) – 150 GalU
Glucoamylase (from Aspergillus niger) – 9 AGU
Lactase (from Aspergillus oryzae) – 1000 ALU
Invertase ( from Saccharomyces cerevisiae) – 399.8 SU
Lipase (from Candida rugosa, Aspergillus niger, and Rhizopus oryzae) – 500 FIP
Acid Maltase (from Rhizopus oryzae) – 14 MaltU

Ghost Probiotic – 10 billion CFUs

In Ghost Greens, inulin serves as a potent prebiotic, while various probiotics are added to promote gut health. Probiotics are healthy bacteria that reside in the digestive tract and help the body digest nutrients efficiently as they move through the stomach and intestines.

Probiotics have a significant impact on overall health, from controlling appetite to improving mental health. Ghost Greens includes multiple strains of probiotics, such as bacillus subtilis and lactobacillus acidophilus, to promote complete gut health. These probiotics work in harmony with the digestive enzymes in Ghost Greens.
Again, see all of the research with scientific sources in our main Ghost Greens article.
All Ghost Greens flavors
Don't forget, Ghost Greens launched with a punchy pineapple peach flavor, which is another PricePlow favorite. Check out our up-to-date list below: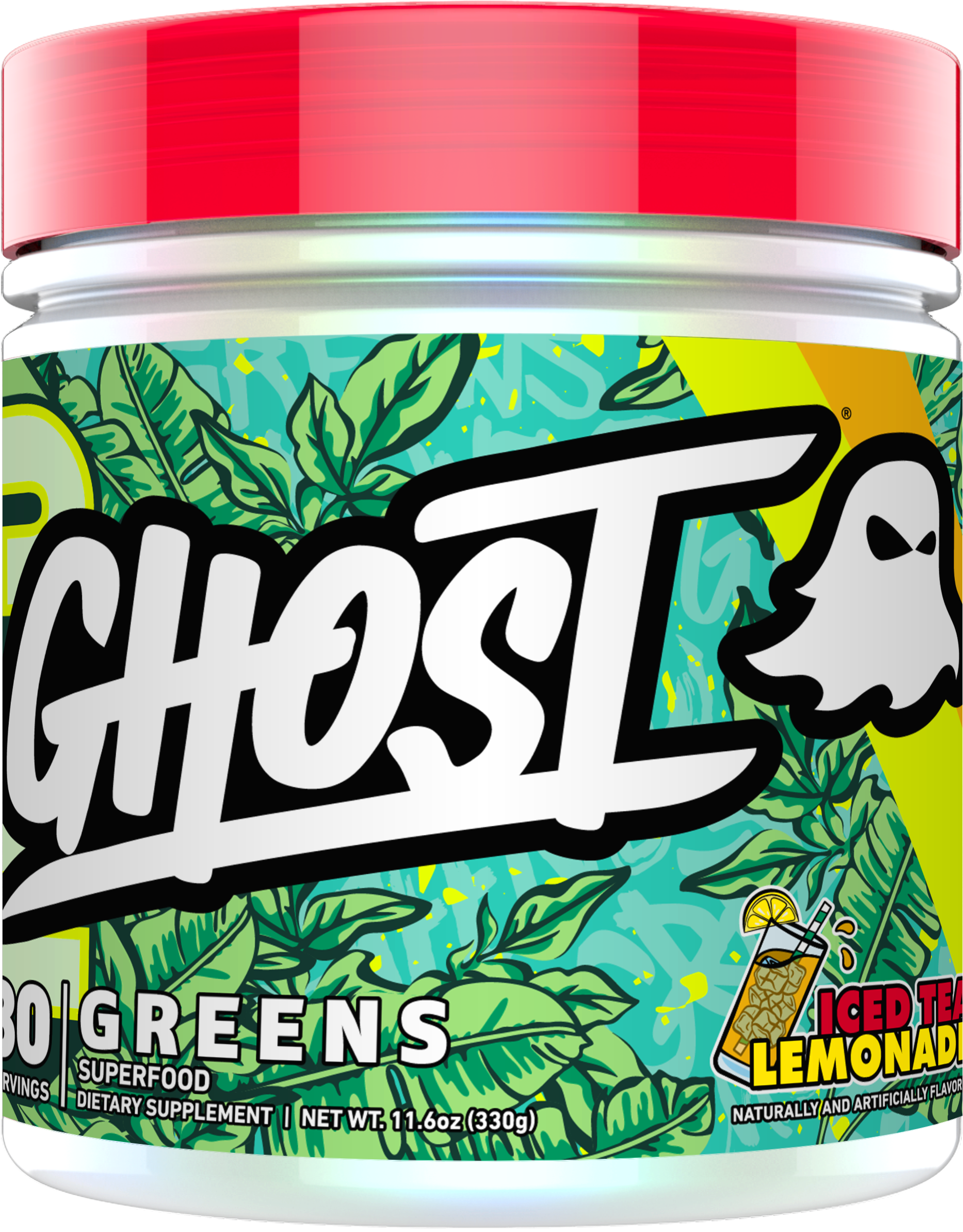 Earth Day Celebrations with Ghost
On the one hand, we'd love to be able to sip on the Iced Tea Lemonade flavor every day of the year. On the other hand, it is certainly true that satisfaction is enhanced when you only get a flavor in small batches. It makes you really appreciate the cool, relaxing citrus notes that much more. Whatever the reason, we're glad it's back.
This time, Ghost Greens Iced Tea Lemonade is making its return in celebration of Earth Day. Even better – every single tub of Iced Tea Lemonade Greens plants a tree with One Tree Planted! So pour yourself a glass of delicious, refreshing, nutritious greens powder, and contribute to the re-greening of the Earth!
One thing worth mentioning – last time Ghost relaunched their Iced Tea Lemonade, they made it available in both Ghost Amino and Ghost Greens here. As this is an Earth Day celebration, it's just available in Greens this time around. So if you want it in Ghost Amino again, make some noise on the @GhostLifestyle Instagram account and let them know!
GHOST Greens – Deals and Price Drop Alerts
Get Price Alerts
No spam, no scams.
Disclosure: PricePlow relies on pricing from stores with which we have a business relationship. We work hard to keep pricing current, but you may find a better offer.
Posts are sponsored in part by the retailers and/or brands listed on this page.