Back in 2020, Ghost Lifestyle released Ghost Glow, a beauty and wellness product that marked a new trend in the industry towards a focus on greater overall health. On January 25th, Ghost Glow received a makeover.
Ghost Glow V2 has a few ingredient changes, a brand new stick pack flavor, and a new consumable option with Glow Caps, all covered in the article linked above. It seems one of Ghost's first goals of the new year is to get all of its fans in spring break shape. You can read about them in our main article linked above, which has been updated to explain the new formulas.
In this article, we're here to explain a new flavor:
Mango Margarita: Sunshine and Good Vibes
Ghost Glow takes aim at bodily health both inside and out. Billed as a beauty and a detox supplement, its usage of ingredients like Astrion, Setria L-Glutathione, and Verbasnol combine to improve the look of your skin and the substance of your cells through their effects on the immune system and antioxidative properties.
Mango Margarita, then, seems to capture this vibrant image of good health to a tee. Evoking images of the sunny tropics and beautiful, smooth skin exposed, Ghost knows how to fit a flavor to a formula.
Even better, Mango Margarita comes in stick packs, one of our favorite supplement package formats. Stick packs are endlessly convenient. Just grab one pre-dosed packet, throw it in your beach bag, and dump it in a water bottle when you're ready to taste some of that sweet, refreshing mango tang.
We're going to get into a summary of the ingredients in Ghost Glow, but first let's take a look at PricePlow to see if there are any great deals on Ghost Glow.
GHOST Glow – Deals and Price Drop Alerts
Get Price Alerts
No spam, no scams.
Disclosure: PricePlow relies on pricing from stores with which we have a business relationship. We work hard to keep pricing current, but you may find a better offer.
Posts are sponsored in part by the retailers and/or brands listed on this page.
This area is reserved for Team PricePlow's upcoming videos.
Subscribe to our channel and sign up for notifications so you catch it when it goes live!
Ghost Glow V2 – How It Works
First and foremost, this new-and-improved version of Ghost Glow has removed DIM, added hyaluronic acid, and lowered the dosages of inositol and selenium. Every 7g stick pack includes the following ingredients: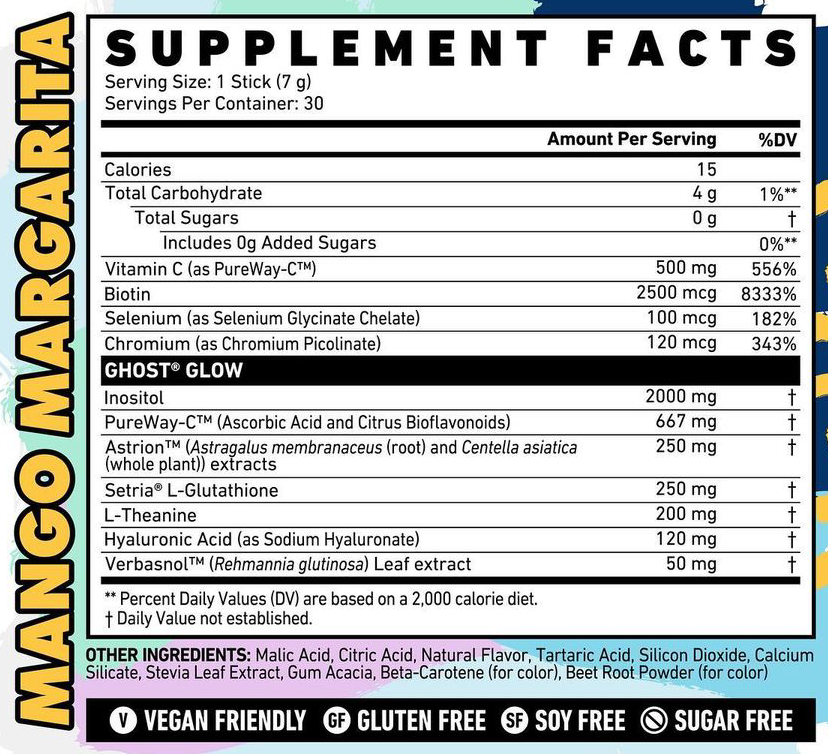 Down from 4g in Glow V1, the dose of inositol has been lowered to 2,000mg. Inositol, also known as myo-inositol, is a carbocyclic sugar that has a similar structure to blood glucose and is therefore involved in a wide range of bodily processes. Affecting things like osmoregulation, hormonal signaling, and neurotransmitters, inositol supplementation has taken off as a way to keep physiological systems humming along like a fine German automobile.
PureWay-C (667mg), a form of Vitamin C with improved bioavailability, has well-researched antioxidative properties. Vitamin C can boost collagen type I production and protect your skin from UV radiation, two extremely important components to maintaining proper skin health.
Astrion (250 mg) is a trademarked ingredient from NuLiv Science that was formulated to nourish skin and boost that radiant glow. By increasing type I collagen production in the skin, Astrion helps to keep you looking young and healthy.
Setria L-glutathione (250mg) is a unique tripeptide form of glutathione that has been shown in clinical trials to raise blood glutathione levels. Glutathione is composed of cysteine, glycine, and glutamic acid, and it plays a vital role in neutralizing free radicals and enhancing the production of antioxidant enzymes.
L-theanine (200mg) is an amino acid that has been used extensively in the supplement industry for its role in promoting relaxation without drowsiness. Its mechanism of action stems from its role in boosting the synthesis of neurotransmitters such as serotonin, GABA, and dopamine.
Hyaluronic acid (120mg), a new addition to the Ghost Glow formula. It's known as an osmolyte, which can increase the volume of water in your cells, providing a whole-body hydrating effect.
Verbasnol (50mg), another trademarked ingredient from NuLiv Science, is derived from Rehmannia glutinosa leaves and it helps keep the skin in tip-top shape via decreasing the occurrence of acne, inflammation, and yeast growth.
Biotin, also referred to as vitamin B7, is a critical nutrient involved in the metabolism of carbs, fats, and proteins. Biotin deficiency can cause symptoms like hair loss, rashes, and scaly skin.
Selenium (200mcg), in the form of selenium glycinate chelate, is considered a trace mineral that is nonetheless considered a crucial element for health due to its involvement in DNA synthesis, thyroid hormone metabolism, and more.
Chromium (120mcg) is an underrated nutrient that has been shown to enhance insulin sensitivity, resulting in a reduction in cravings, improved body composition, and potentially even cognitive benefits.
You can read the full scientific analysis and compare the powdered formula to the Ghost Glow Caps in our main Ghost Glow article.
All Ghost Glow flavors
Don't forget, Ghost Glow also comes in a variety of other delicious flavors. Check out our up-to-date list below:
Get that tropical glow
Until recently, the beauty and fitness supplement industries were largely separate. Supplement companies stayed in whatever lane they were in. In typical Ghost fashion, they decided to join the wave towards a more holistic approach to health with products like Ghost Glow.
Glow V2 seems much more streamlined and optimized for results both inside and out. With some slight tweaks of inositol and selenium dosages, along with the addition of hyaluronic acid, Ghost seems to be fine-tuning Glow – it's always awesome to see companies revisiting older formulas and making them better, rather than quick releases followed by forgetting formulas exist.
Add in Ghost's everlasting ability to formulate delicious flavors, and Glow is a product primed for further success in the wellness space.
GHOST Glow – Deals and Price Drop Alerts
Get Price Alerts
No spam, no scams.
Disclosure: PricePlow relies on pricing from stores with which we have a business relationship. We work hard to keep pricing current, but you may find a better offer.
Posts are sponsored in part by the retailers and/or brands listed on this page.