Protein powders thrown in a shaker cup with a bit of milk are great for times when you just want to get a nice, big serving of protein in quickly and without hassle. That said, sometimes you just want to bite into something solid.
Functional foods have experienced a massive rise in popularity over the years – primarily in the form of foods that help you meet your macro goals while tasting like dessert at the same time.
One of our favorite functional foods is AP Prime Bites Protein Brownies from Alpha Prime Supps. They're an absolute delicacy that you don't have to feel guilty about eating. We've covered them in the past (see the link above), but there's a major update for 2023:
Prime Bites GLAZE is here
Just when we thought Prime Bites couldn't get any more delicious, Alpha Prime releases two new flavors of the snack defined by one awesome factor: glaze.
Glazes are essentially the definition of a guilty pleasure – donuts, cinnabon buns, and lemon pound cake are not particularly great for health. If there's a glaze on a treat, the odds are virtually certain that it will be delicious and detrimental to your fitness goals in equal measure.
Glaze – sugary and moist
Other protein-dominant snack foods have experimented with glaze before, but what sets the glaze on Prime Bites apart is its high moisture content. The gooeyness of the glaze pumps the salivation factor up to 11. Both new flavors – Glazed Cinnamon Roll and Chocolate Glazed Donut – are must-tries.
We're going to dive into a little summary on the ingredients in AP Prime Bites, but first, let's check the PricePlow for good AP deals, and check out our video review of the new flavor:
Alpha Prime Supps Prime Bites Protein Brownie – Deals and Price Drop Alerts
Get Price Alerts
No spam, no scams.
Disclosure: PricePlow relies on pricing from stores with which we have a business relationship. We work hard to keep pricing current, but you may find a better offer.
Posts are sponsored in part by the retailers and/or brands listed on this page.
You can read the details in our earlier AP Prime Bites article, but here's a general breakdown:
Prime Bites Macros / Nutrition Facts: Chocolate Glazed Donut and Glazed Cinnamon Roll
Both flavors have the same macros: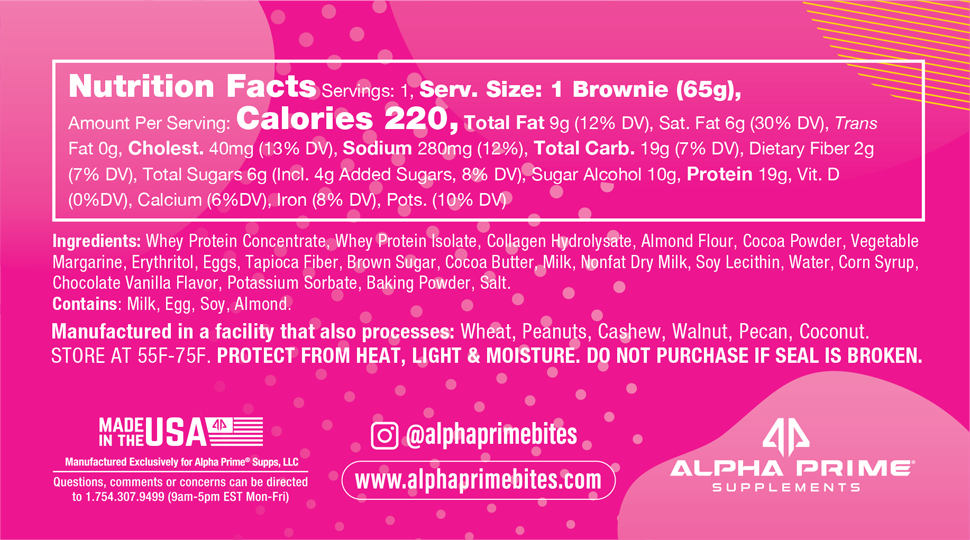 Calories: 220

Protein: 19g

Total Carbohydrate: 19g

Dietary Fiber: 2g

Total Sugars: 6g

Sugar Alcohols: 10g

Total Fat: 9g