It's back!
PricePlow is once again running a March Madness bracket challenge, known as March SUPPNESS 2017!
After last year's big win by Muskrat394, who scored better than 99.5% of the entire world, it's time to re-test your bracket skills and see if you will be crowned next King — and showered in supplements.
Last year, dozens of brands donated to the cause with our biggest-ever supplement giveaway, and we're going for broke once again! We're still working on securing commitments, but first things first, get your bracket in before it's too late!!
Winners announced!
See your name on this list??
Then message us on social or email us at contact@priceplow.com to make sure we have your name and mailing address because you got some supps with your name on it!!!
We tried to make LOTS of winners (can't let Buffy have it all!) and it took forever digging through upsets and someone who picked SC over Duke, so no complaining! A fun year as always!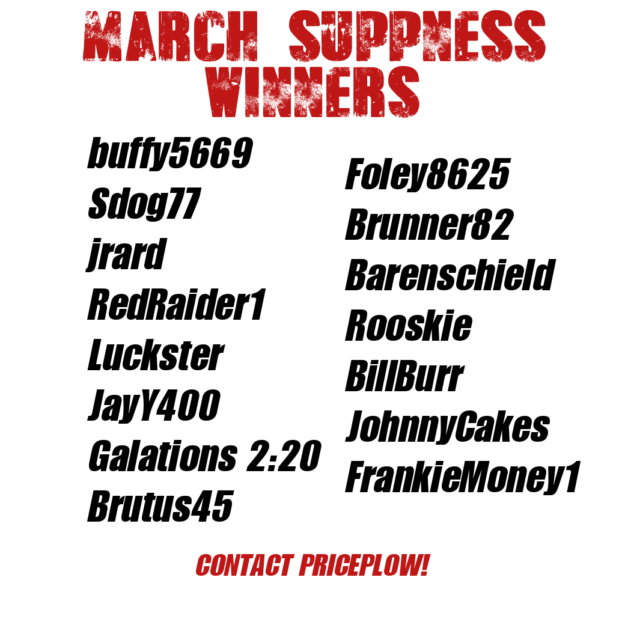 We'll also be running bonus prizes for wild upset picks, so weigh them in on your bracket. Some of the worst brackets still won a few prizes last year!
Hi-Tech Pharmaceuticals and Formutech Nutrition are running a separate contest — pick the number of upsets in the first round for a chance at a free bottle of the Lean EFX fat burner!
Click here or click the image to the right to join that one – it's separate from your bracketology picks!
Callout to Brands!
If you run or represent a brand, get in touch with Mike or Robert ASAP to get listed on this page!
What are the Prize Commitments?
Below is the total list of prizes. Most will go to the top 5 winners, with the first three getting the most. Some will be randomly awarded.
4th Place Winner gets a stack of:
So what are you waiting for? Get in here!
Like this Post? We have more on the way...
PricePlow is a price comparison site that asks one simple question: is this worth it?
The honest truth lives here. Follow us on social media below: