Myprotein is, of course, a company highly dedicated to the craft of standard (and sometimes novel) proteins, but their contributions to the supplement industry don't end there. They've been on the march, with more powders, use cases, and flavors conquered.
We've been writing about their Pro Range for a while, and we're big fans. The Pro Range features higher-end products with better ingredients while still coming in at an affordable price. Back in 2020, we covered their release of THE EAAs, an excellent intra-workout powder and worthy addition to the Pro Range lineup, and now they're releasing it in two new flavors!
New Flavors: Strawberry Kiwi & Blue Raspberry
As you might guess, THE EAAs contains essential amino acids. Essential amino acids are amino acids like leucine, isoleucine, and valine that cannot be synthesized by the body. In total, nine out of twenty primary amino acids that make up muscle protein are essential amino acids, and it's necessary that we find some way to get adequate amounts of all of them each day for optimal results.
While branched-chain amino acids (BCAAs) used to get all the love in the supplement industry, EAAs are really the amino acids that you should be supplementing for improving recovery and exercise performance.
THE EAAs has a formula that achieves this goal and more. And today, we have two flavors that make it a pleasure to drink during a great workout: Strawberry Kiwi and Blue Raspberry.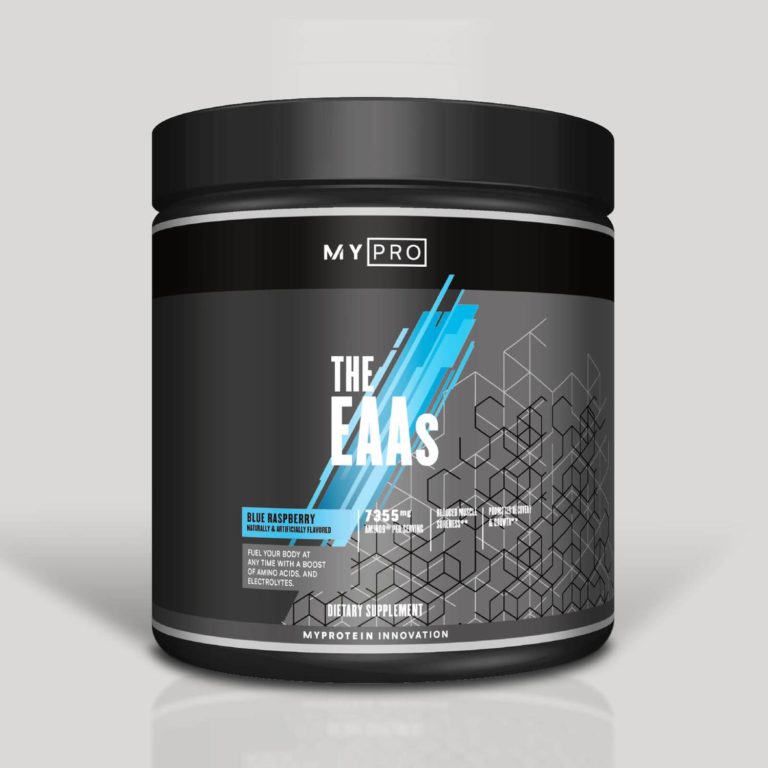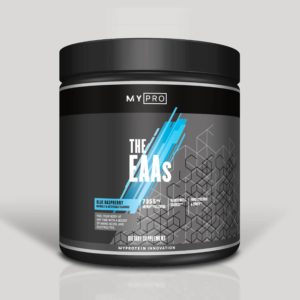 First up is Strawberry Kiwi. This flavor is excellent, with the tangy and sweet flavor of the strawberries perfectly balanced by the tropical, slight tartness of the kiwi. Put together, it's an uber-refreshing flavor combo that hits the spot in the middle of a workout. There's far more strawberry than kiwi with this one, and we're happy about that since we love Myprotein's strawberry flavoring (such as their Mike and Ike THE Pre-Workout).
Blue raspberry offers an awesome flavor profile as well. This is the old-school, heavy blue raspberry flavoring from classic supplements that made the industry what it is decades ago. The quintessential blue razz flavor, if you will..
We're going to dive into a short summary about how Myprotein The EAAs works, but first, let's check the PricePlow for good Myprotein deals, and check out our video review of the new flavors:
Myprotein The EAAs – Deals and Price Drop Alerts
Get Price Alerts
No spam, no scams.
Disclosure: PricePlow relies on pricing from stores with which we have a business relationship. We work hard to keep pricing current, but you may find a better offer.
Posts are sponsored in part by the retailers and/or brands listed on this page.
Myprotein The EAAs – How It Works
In each container of THE EAAs, there are 30 servings, and each scoop (11.5g) will provide:
L-leucine (2790mg) activates anabolic pathways in the body, such as the mammalian target of rapamycin (mTOR). It helps to increase protein synthesis, stimulating muscle growth and repair. Additionally, leucine can support lean muscle mass and stamina, improving physical performance and aiding in weight management goals.
L-lysine (1069mg) plays an integral role in protein synthesis within the body, aiding in producing hormones, enzymes, and antibodies. It supports a healthy immune system and can help prevent cold sores, as well as support healthy hair and skin. When taken as a supplement, l-lysine has been known to improve calcium absorption, resulting in stronger bones, as well as improving the absorption of other nutrients.
L-threonine (751mg) helps promote the synthesis of proteins in the body. Its absorption into the bloodstream helps to improve the metabolism of fats and carbohydrates, providing a boost in energy to the body.
L-isoleucine (614mg) works by aiding in the production of enzymes and metabolic hormones. Its ability to stimulate glucose uptake enables it to increase energy levels, while its contribution to the synthesis of hemoglobin helps to improve endurance.
L-valine (580mg) promotes the synthesis of glycogen, which serves as a stored form of energy and is, therefore, crucial to exercise performance. In addition to being stored in the liver and keeping blood sugar regulated, glycogen participates in metabolic processes in the muscles as well. Valine also has a prevalent metabolite that's generated once you begin exercising – the myokine ("muscle messenger") known as L-BAIBA.
L-phenylalanine (398mg) acts as a precursor for the production of critical neurotransmitters, including dopamine, epinephrine, and norepinephrine, helping to regulate mood and energy levels. It may also help to reduce physical pain, stress, and fatigue.
L-methionine (284mg) can improve a wide range of metabolic functions, aiding in physical and mental health. It has the potential to reduce muscle fatigue and offers antioxidant protection through the formation of S-adenosylmethionine (SAMe), helping to repair tissues in the process.
L-histidine (239mg) can combine with beta-alanine to form carnosine, a cytoplasmic dipeptide that serves as a proton buffer, leading to superior athletic performance. Carnosine also helps reduce lactic acid accumulation, improving overall endurance in the gym.
L-tryptophan (40mg) works to increase serotonin levels in the brain, aiding in the regulation of mood and sleep. By naturally boosting serotonin levels, it encourages feelings of relaxation, improving overall psychological health and alertness.

AstraGin (50mg) is a unique supplement ingredient made by NuLiv Science that works by increasing nutrient absorption and assimilation in the body. It helps to increase the efficacy of amino acids, antioxidants, vitamins, minerals, and other nutrients, allowing them to be more effectively absorbed and utilized by the body. This way, it serves as a potentiator for every amino acid in this formula.

Elemin (25mg) is a trademarked ingredient composed of ancient peat, which offers over 70 plant-based minerals. Most important are potassium and sodium, which act as a hydrating agent, helping your body to retain all of the water it needs for an awesome workout.
For more in-depth information on each ingredient, check out our main The EAAs article.
All Myprotein The EAAs flavors
Myprotein is known for their extensive flavor offerings. It seems like we're covering a new flavor of theirs every week. Check out our up-to-date list of The EAAs flavors below:
Good Flavors: Key To Adherence
Ever since Myprotein boarded the Mayflower and landed in the US, they've been on the warpath. At this point, they're one of the biggest names in the business, and for good reason. They continue to churn out quality products and delicious flavors for reasonable prices, which is no mean feat in today's supplement market.
The addition of Strawberry Kiwi and Blue Raspberry to their flavor lineup for THE EAAs is welcome news, and we can't wait to try what they come out with next.
Myprotein The EAAs – Deals and Price Drop Alerts
Get Price Alerts
No spam, no scams.
Disclosure: PricePlow relies on pricing from stores with which we have a business relationship. We work hard to keep pricing current, but you may find a better offer.
Posts are sponsored in part by the retailers and/or brands listed on this page.