Kaged Clean Meal Chocolate Peanut Butter: A Flavor as Good as the Ingredients
The Kaged rebrand has been in full swing all year, with their beautiful and simple new labels covering nearly their entire product line. It started this year with the insanely powerful Pre-Kaged Elite, which we revealed in PricePlow Podcast #058 with CEO Michael McClane when he announced the name change from Kaged Muscle to Kaged.
But as you can guess from that epic Pre-Kaged formula, the brand is not abandoning muscle gains — and to back that up, they're expanding their meal replacement protein menu:
Clean Meal Chocolate Peanut Butter
Earlier this month, Kaged announced a Chocolate Peanut Butter flavor of Clean Meal, their whole foods meal replacement (MRP).
Only issue is that it sold out before we could get this article up! We've had a video review on it — the flavor is most excellent — but finally, it's available in partner retailers, so let's quickly dig into the macros, main ingredients, and why we crush pound after pound of this MRP:
Kaged Clean Meal – Deals and Price Drop Alerts
Get Price Alerts
No spam, no scams.
Disclosure: PricePlow relies on pricing from stores with which we have a business relationship. We work hard to keep pricing current, but you may find a better offer.
Posts are sponsored in part by the retailers and/or brands listed on this page.
Chocolate Peanut Butter Clean Meal
As told in the review above, the "flavor kills it" — it's a 50/50 blend of chocolate and peanut butter. The cocoa's more on the milk chocolate side, which is worth noting since Kaged Muscle Whey Isolate's Chocolate flavor has more dark chocolate notes. Regardless, Kaged always seems to use epic cocoa.
Clean Meal Chocolate Peanut Butter Macros
As is usually the case for chocolate peanut butter flavor systems, this version has a few more calories than the other flavors – but to us, it's worth it because you're getting more of everything — more carbs, more protein, and half a gram more fat than the original Snickerdoodle flavor:
Calories: 240

Protein: 29g

Total Carbohydrate: 20g

Dietary Fiber: 3g

Total Sugars: 2g (0 added)

Total Fat: 5g
Clean Meal Ingredients
Our full in-depth analysis is posted in our article titled Kaged Clean Meal: The Most Underrated Meal Replacement on the Market, which should give you a hint regarding our opinions on this product. If you don't need a full lecture, here are the main bullet points:
Protein Source: ioWhey Optimized Whey Protein Isolate

Kaged doesn't just use whey protein isolate, they use whey protein isolate that's been improved with ioWhey technology from Ingredient Optimized (io).

This is explained with references in the Clean Meal article linked above, but the general gist is that io Technology utilizes an atmospheric plasma treatment process that "shifts" the actual protein molecules into a configuration that improves their surface area, solubility, and dispersibility. This leads to improved solubility, better absorption, and ultimately, greater amino acid uptake into the intestines!

Clean Meal will also have some added protein sources (such as from quinoa and the peanut flour in this flavor), but the vast majority is coming from this whey protein isolate – no lower-cost concentrates inside!

Carbohydrate Sources: Oat flour and organic quinoa

For your carbs, Kaged employs both oat flour and organic quinoa. In an industry where we see far too much cheap maltodextrin or "glucose polymers", this is a breath of fresh air. These provide some auxiliary compounds like β-glucan, avenanthramides, and other beneficial phytochemicals.

You'll also see perhaps an extra carb or two from the cocoa powder used in this flavor system, which is something we never complain about, given cocoa's healthy properties.

Fat Sources: MCT Powder

The fat calories you see on Clean Meal's label mostly come from medium chain triglyceride powder, abbreviated to MCT. These are the healthy saturated fats that generate quick energy, and can be easily converted to ketone bodies, providing an alternative fuel source from glucose.

With the Chocolate Peanut Butter flavor, you can also expect to get a gram of fat off of the peanut flour and cocoa. There may be a smidgen of extra from the whey protein isolate, although that will be negligible in a pure whey isolate.

The Vitamin and Mineral Blend

One thing that separates Clean Meal from the pack is its vitamin and mineral blend, which includes not only vegetables like broccoli, spinach, kale, pumpkin, and sweet potato, but also maitake and shiitake mushrooms. These provide other beta-glucans that differ from those of the oat flour, leading to even more potential health benefits.

While we love mushrooms, we're also happy to tell you that you won't taste them in this powder.

Other ingredients: Sweeteners and Thickeners

Clean Meal follows the Kaged mantra of using as much natural sweetening as possible — it has a blend of stevia (steviol glycosides) followed by just a bit of sucralose at the end of the label to perfect the aftertaste.

In addition, there's a triple gum blend of guar gum, gum acacia, and xanthan gum. We've repeatedly gone on the record stating that we just seem to like protein powders more when there's more than one gum involved to round out the texture profile.

Again, read the full story with scientific references in our main Kaged Clean Meal blog post.
Other flavors available
Chocolate Peanut Butter is great, but Kaged is very well-known for their Snickerdoodle flavor as well. Here's what's currently available out there on the web:
Keep up on your diet with Clean Meal
Should you live off of meal replacement proteins? No — but is it a good idea to have some around for busy days on the go (or in your prepper stash that you never disclose to your hungry neighbors)? Of course!
We love Clean Meal because it sticks to high-quality whey protein isolate, has no junk fats (MCTs are great), and adds a mushroom-fortified vitamin and mineral blend that adds micronutrients not often found in standard MRPs.
This new Chocolate Peanut Butter keeps selling out fast, so sign up for alerts below – especially if you want that extra gram of protein and additional calories from the incredible flavor system.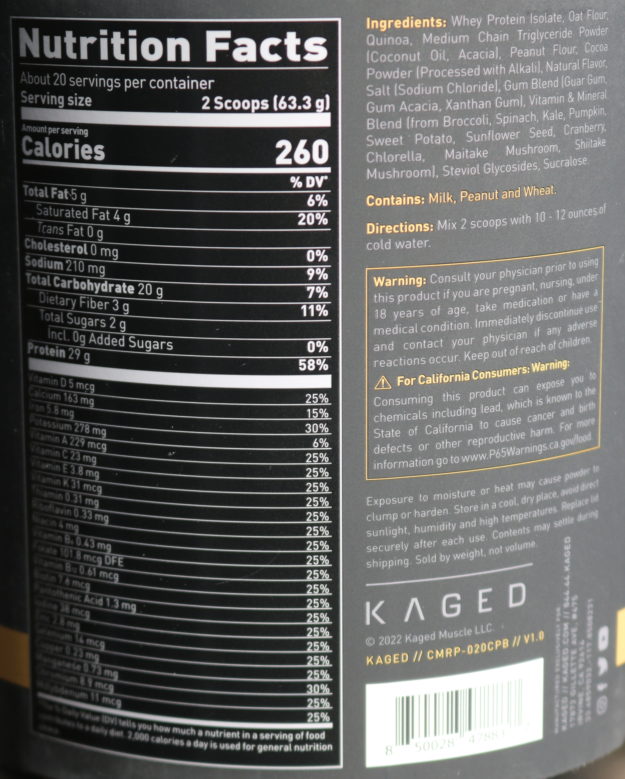 Kaged Clean Meal – Deals and Price Drop Alerts
Get Price Alerts
No spam, no scams.
Disclosure: PricePlow relies on pricing from stores with which we have a business relationship. We work hard to keep pricing current, but you may find a better offer.
Posts are sponsored in part by the retailers and/or brands listed on this page.