A while back, we wrote about the resurgence of a powerful testosterone-boosting ingredient, spilanthes acmella, with the most potent and well-tested form named "SA3X".
So when we heard whispers of Precision Research developing a brand new all-natural testosterone booster with that extract, our ears perked up!
After a few months of mounting anticipation, Lean Test has finally arrived, and it certainly looks to put some extra lead in your pipe!
So get your bacon and balls ready, this is the product we've been waiting for.
We've got the full breakdown ahead, but first, take a moment to check the best deal and sign up for alerts from PricePlow, but you can also find it on PrecisionResearchUSA.com with coupon code PLOW30:
Lean Test - Best Deals and Price Drop Notifications
Get Price Alerts
No spam, no scams.
Lean Test Ingredients
Lean Test maintains a slim profile of ingredients, but they're transparently dosed and incredibly potent — yielding a truly unique all-natural testosterone booster that comes with numerous other benefits!
SA3X™ is a new trademarked proprietary Spilanthes Acmella extract from an Indian company named Stiriti Ayur Therapies. It's standardized for over 5% Spilanthol, an incredibly powerful testosterone-boosting N-Alkylamide found in nature.

Precision Research is the first company we know of to use this premium form of Spilanthes.

What does Spilanthes Acmella do?

Clinical studies using Spilanthes have documented it's been particularly effective for increasing testosterone and luteinizing hormone (LH).[1]

In the most commonly research cited, spilanthes was pitted up against two control groups – one that received total placebo, and the other received sildenafil citrate (Viagra). The test groups received 50, 100 and 150mg/kg Spilanthes extract per body weight – and they all increased testosterone, but the 100mg/kg and 150mg/kg groups definitely had the most significant gains.

That translates to human doses of anywhere from 1600mg/day – 2200mg/day of the raw extract… but with the more finely-tuned SA3X, doses like that are definitely not needed. Beta users felt effects at doses as low as 300mg, but 600mg is where it most shined and was still affordable.

So it's best to start out at one capsule of Lean Test per day, as discussed below in the dosing section. This is actually twice the dose of other competing products, and the best way to really test if spilanthes is for you.

Other great effects

But there's much more! It also helps elevate nitric oxide levels, reduce pain, improved "mounting frequency" in rats (warn your lady friend!), and helps you shed water weight.[2,3]

For more information, check out our in-depth mega post titled: Spilanthes Acmella: Testosterone-Boosting Flower Power.

E-xstane™ (75mg)

E-xstane™ is an incredibly powerful metabolite of 7-Keto DHEA known as Androsta-3,5-diene-7,17-dione or Arimistane. It's an extremely potent Aromatase Inhibitor (A.I.) that prevents the aromatase enzyme from converting your precious testosterone into estrogen.[4,5]

On top of that, E-xstane™ helps regulate estrogen and cortisol levels in the body, both of which are counterproductive for muscle building and healthy T-levels. The end result is lower estrogen and stress levels in the body translating to higher circulating testosterone levels!

If you really want to get in-depth with aromatase inhibitors, take a look at our intensive Post Cycle Therapy guide, where this and many other things are discussed.
On the Formulation
We reached out to Precision Research to see what went into designing the formula and why specifically did it pair up these two powerhouse ingredients:
"It has a dual-phase synergistic effect..

TEST – ESTROGEN – CORTISOL… The natural test boost from a whopping 600mg SA3X 5% Spilanthol extract of Spilanthes acmella works hand in hand with E-xstane which would reduce any estrogen increase from an increase in testosterone.

Drying / Leaning / Tightening… The Spilanthes has a potent diuretic effect, leaving you with less bloat and less water. Estrogen and cortisol, two hormones which can lead to bloating and water retention and fat gain, are reduced by E-xstane which also promotes a leaning and drying effect.

The two ingredients are the perfect match."
Dosing
Precision Research recommends consuming only 1 pill per day.
"We push the 1 pill a day easy dosing / so potent you only need 1 pill a day.  It's so effective some users have to take it every other day rather than every day, because the arimistane / E-xstane at 75mg can dry out your joints."
Takeaway
This is what we like to see in the industry. Companies taking a novel approach while at the same take efficaciously dosing products to yield something that is both new and effective!
Lean Test is a one-of-a-kind test booster that will help elevate T-levels, lower estrogen, shed water weight, and improve recovery all in one capsule per day. Check it out if you're tired of spending money on ineffective natural supplements, but don't want to venture into the world of anabolics or prohormones!
Note that we will be testing this, and we will be taking blood tests. Look forward to that soon, we're still getting our blood work system figured out!
Lean Test - Best Deals and Price Drop Notifications
Get Price Alerts
No spam, no scams.
You can also find it on PrecisionResearchUSA.com with coupon code PLOW30!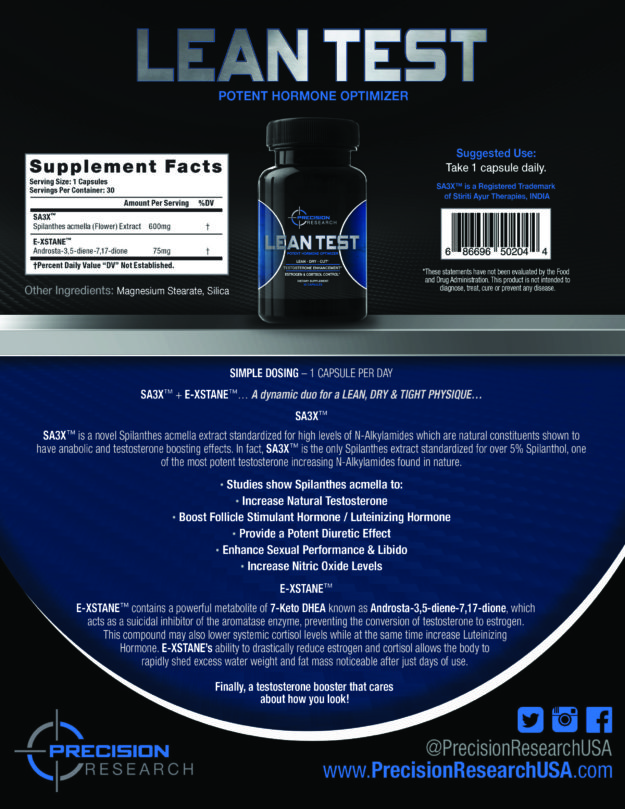 Like this Post? We have more on the way…
PricePlow is a price comparison site that asks one simple question: is this worth it?
The honest truth lives here. Follow us on social media below:
References