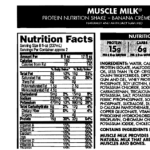 Consumers have been working hard to avoid products that have been amino acid spiked or deceptively marketed, but on the flip side, lawyers seem to be rushing to the scene.
On January 23, 2015, a class action lawsuit was filed against CytoSport, makers of the ever-popular Muscle Milk product line.
The complaint alleges that the following products do not meet label claims, via "misrepresentations regarding defendant's products' protein content".
See the 42 page PDF:
cytosport-class-action-complaint-20150123
What products are allegedly in violation?
The following products are listed in the complaint, and it seems like nearly all of them:
The Muscle Milk RTD Products:

Cytosport Whey Isolate Protein Drink
Monster Milk: Protein Power Shake
Genuine Muscle Milk: Protein Nutrition Shake
Muscle Milk Pro Series 40: Mega Protein Shake

The Muscle Powder Products:

Muscle Milk: Lean Muscle Protein Powder
Muscle Milk Light: Lean Muscle Protein Powder
Muscle Milk Naturals: Nature's Ultimate Lean Muscle Protein
Muscle Milk Gainer: High Protein Gainer Powder Drink Mix
Muscle Milk Pro Series 50: Lean Muscle Mega Protein Powder
Monster Milk: Lean Muscle Protein Supplement
Quick bullet points
Protein Data Provided

The complaint makes the following allegations regarding Cytosport's protein content:

CytoSport Whey Isolate RTD:

27.3g protein found

(instead of 32g claimed)
Monster Milk:

Between 36.9 and 41.55g found

(instead of 45g claimed)
Muscle Milk RTD (17oz): Approximately

20.8g found

(instead of 32g claimed)
Muscle Milk RTD (14oz): Approximately

22.15g found

(instead of 25g claimed)
Muscle Milk Pro Series 40: Approximately

36.18g found

(instead of 40g claimed)

No detailed lab tests here

Unfortunately, we do not have any of the lab tests with detailed amino acid profiles, so this is difficult to confirm. There are no exhibits attached (nor are they referenced).

Instead, the complaint references a third-party supplement testing website named LabDoor, but we've been told that there was separate testing done.

L-Glutamine Not Found?!

The lawsuit takes particular offense to L-Glutamine, the conditionally essential amino acid that is claimed to be inside of the Muscle Milk family of products.

However, L-glutamine was not found in "any appreciable amount" in any of these products.

Lean Lipids not so "Lean"?

The complaint also takes offense to the word lean used in CytoSport's trademark, Lean Lipids.

The plaintiffs state that it is "oxymoronic" and that the phrase suggests it contains less fat than other similar supplements, which they then claim to be demonstrably false.

Further, they claim that the use of the word "lean" "shall be demmed to be misbrand[ing] under sections 201(n), 403(a), and 403(r) of the Federal Food, Drug, and Cosmetic Act."

"Misleading and Deceptive"

In short, all of the above acts are accused of being misleading and deceptive.

This isn't specifically about amino acid spiking like the other lawsuits.

Four different classes

The lawsuit was filed in nationally, in California, in Florida, and in Michigan, and is clearly the largest of any of the amino acid spiking-based lawsuits we've seen to date.

Due to the numerous states listed above, there are more lawyers in on this one, but one that's familiar to the other suits is here: BARBAT, MANSOUR & SUCIU PLLC
Some discussion and disclaimer
As always, we must state that these are only accusations, and nothing is proven until due process has taken place.
Further, there are no internal lab tests here, nor are they even referenced.
Instead, they are referencing a third-party website – one which we do love – but one which has commercial interests and has never shown a chain of custody (or at least made a statement about it) to prove that there was no tampering of the product between manufacturing and the lab test.
Until more data is available, we remain speculative that this suit will go anywhere, but it of course depends on the full information as well as the judicial system's decision-making process.
So is glutamine good or bad?
Also interesting is that first, having extra L-glutamine in your protein powder was "bad" because it can be used to spike the protein (not a completely illegal act unto itself), but now not having it can also get you in trouble (if you claimed you have it!)
Point is, supplement companies now know that they better put what they're claiming on the label, and they better test both their raw materials and their outgoing product, lest they dance flirt with one of these legal teams down the road.
It's a scary time to be a supplement company who's selling protein and isn't doing the required cGMP testing.
Anonymous Industry Source Speaks
Over on Facebook, our discussion veered in the direction of "this isn't that bad".
So we'll leave you with a great quote was emailed to us by an industry insider:
"To let companies slide for not being 'as bad' as the worst companies out there is a huge problem with this industry. It's real simple: meet your label claims."