On February 24, 2017 (tomorrow morning), the following Press Release will go live to the world. We have received an early copy of it, and since many of our readers are online late at night reading our article establishing that DMAA is found in geranium, we are publishing this the night before.
The following statements regarding the Hi-Tech Pharma vs. FDA DMAA Lawsuit can all be verified by evidence found in the case. That evidence will soon be published here on the PricePlow blog.
"Hi-Tech Pharmaceuticals Sets the Record Straight on DMAA"
ATLANTA, Feb. 24, 2016 (Submitted to PRNewswire) — There has been a lot of questions surrounding recent events concerning DMAA that Hi-Tech felt it needed to address. For instance, the raid on Blackstone was not based upon DMAA, but dealt with records they were seeking going back to 2012 in relation to their dealings with Duracap Labs (a company whose principals were indicted for steroids months ago). Mark Lobliner and Ron Kramer, along with others, have insinuated that Hi-Tech was losing its battle against FDA on DMAA, which is the furthest thing from the truth!
Hi-Tech Pharmaceuticals sued the FDA November 5th, 2013 in Federal Court- Case 1:13-cv-01747, claiming the agency bypassed standard rule-making procedures in favor of a bullying campaign to try to force companies to destroy their products containing 1,3 dimethylamylamine, or DMAA.  "DMAA has existed in the food supply for many years," the complaint states. "Hi-Tech has sold over a million bottles of dietary supplement products containing this ingredient without any adverse event reports." A key issue in this case is whether the substance 1,3-Dimethylamylamine HCl ("DMAA") is a naturally occurring constituent of the geranium plant.
Hi-Tech has presented two experts about DMAA having been found in geranium. In August of 2012, an article was published in Analytical Chemistry Insights by Charlie Li, which found that DMAA was in geraniums. J.S. Li, M. Chen, and Z.C. Li, Identification and Quantification of Dimethylamylamine in Geranium by Liquid Chromatography Tandem Mass Spectrometry, Analytical Chemistry Insights 2012:7 47-58.  It also presented Dr. Paul Simone who published Analysis and Confirmation of 1,3-DMAA and 1,4-DMAA in Geranium Plants Using High Performance Liquid Chromatography with Tandem Mass Spectrometry… Hi-Tech has also presented expert testimony of the safety of DMAA by Dr.Mitchell Elkind, Dr. Marvin Heuer, and Dr. Matthew Lee. Hi-Tech filed a Motion for Summary Judgment which we expect to win that will settle the case once and for all.
The Government's Antics Discovered During Litigation:
Undaunted, Eichner and her colleague at the USADA, Larry Bowers, agreed with Drs. ElSohly and Khan that the issue could be avoided by simply raising the detection limit in the published article so that a finding that no DMAA was detected could be reported.
The saga of the Government's war against DMAA begins sometime in 2010. Somewhere in that time frame, Amy Eichner, an official of the United States Anti-Doping Agency ("USADA"), with virtually no training or expertise in chemistry became convinced that DMAA presented a health risk to athletes. Eichner took her concerns to the Food and Drug Administration ("FDA") on October 13, 2010. Dr. Robert J. Moore, an FDA supervisor in the Division of Dietary Supplements, advised Eichner that DMAA "is found in many plants," that plants are dietary ingredients under DSHEA, and that DMAA "appears to be a dietary ingredient under [DSHEA] because it is a constituent of another dietary ingredient (i.e., a plant)." Wenik Decl., Ex. 8, October 2010 through April 2011 email correspondence between Amy Eichner, Robert Moore, and Daniel Fabricant regarding the presence of DMAA in geranium. Later that same day, Dr. Moore advised Eichner that DMAA could be found in geranium oil which had "a fairly long history of food use as an essential oil" and also provided her the cite to a 1996 scientific study by Ping that had detected DMAA in geranium oil.
Things did not go as Eichner had planned. On May 27, 2011, she told Drs. Khan and ElSohly that she had heard a rumor that other researchers had detected DMAA in geranium oil and she was concerned how this might affect their efforts to lobby FDA regarding DMAA. Dr. ElSohly responded by informing Eichner that he and his colleagues had developed a very sensitive method to detect DMAA and that they had indeed found low levels of DMAA in the geranium samples that Eichner had supplied to them. Undaunted, Eichner and her colleague at the USADA, Larry Bowers, agreed with Drs. ElSohly and Khan that the issue could be avoided by simply raising the detection limit in the published article so that a finding that no DMAA was detected could be reported. It also appears that Eichner had a hand in having other test results that showed DMAA to be contained in geraniums suppressed from public view. A team at the University of Texas, including Ying Zhang and Daniel Armstrong, was also looking at the question of whether DMAA was in geraniums in the spring of 2012. Somehow Eichner gained access to an unpublished version of Zhang and Armstrong's results and she forwarded it to Drs. Khan and ElSohly. The version of the Zhang/Armstrong article of 2012 that Eichner reviewed reported the detection of DMAA in significant amounts in two of eight geranium samples. However, once in the hands of Drs. Khan and ElSohly, the published version reported no detection of DMAA. Dr. Khan was deposed on October 26, 2016. During the deposition, it became clear that Dr. Khan's opinions were based upon facts and data that the Government failed to produce to Hi-Tech in discovery. As Dr. Khan admitted during his deposition, during the course of the Multi-Center Study, testing conducted by the Shanghai Institute revealed that DMAA was detected in some of the samples tested.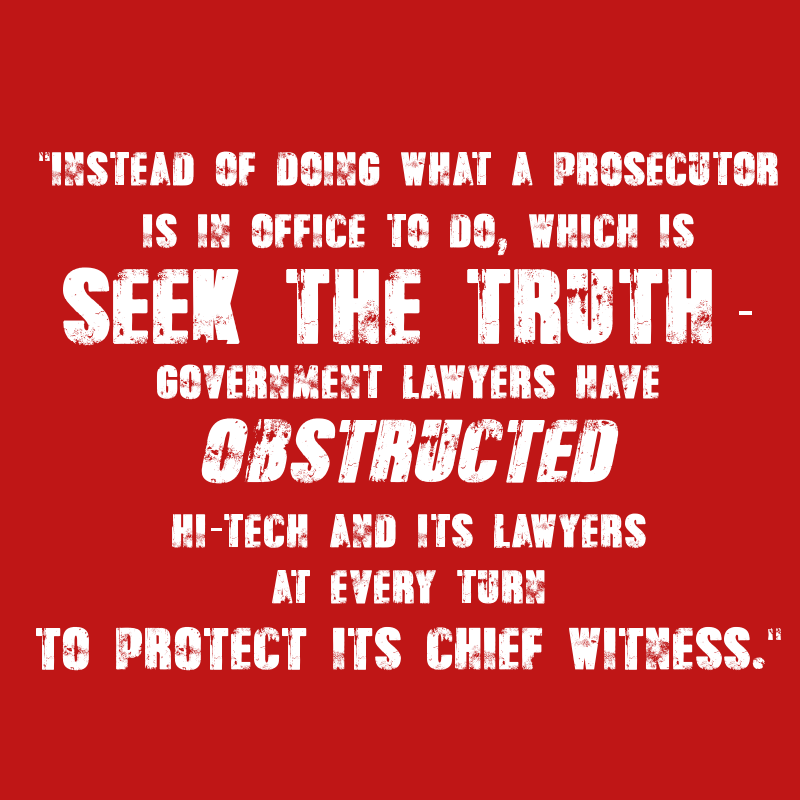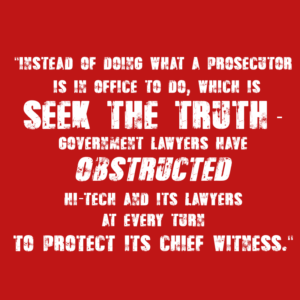 The Government's persecution of DMAA and Hi-Tech is outside the pale of the basic premise of ethics and Hi-Tech asked the Court to look into whether a show cause (contempt) hearing is needed due to their misconduct. The government prosecutors have gone to great lengths to hide the fact that the declarations and reports of Dr. Khan. The government prosecutors spent months trying to prevent Hi-Tech from gaining this damning information to use during its case and the deposition of Dr. Khan. Instead of doing what a prosecutor is in office to do, which is seek the truth — government lawyers have obstructed Hi-Tech and its lawyers at every turn to protect its chief witness. Hi-Tech finds it hard to understand the actions by those who have sworn to uphold our laws and [t]he government, which are clearly treading in very shallow water here.
The government's investigation and prosecution of Hi-Tech has been permeated by the systematic concealment of significant exculpatory evidence which would have independently corroborated Hi-Tech's defense and its experts testimony, and seriously damaged the testimony and credibility of the government's key witness. Hi-Tech likely could have filed an early motion to dismiss and saved itself over a million dollars in legal fees and expert witness fees.
The recent stunning revelations of the prosecutors withholding evidence finally makes sense why they obstructed Hi-Tech at every turn when it has tried to get records from the University of Mississippi. The government's lawyers allowed false declarations and reports from Dr. Khan to be introduced into evidence although he knew they were inaccurate. We expect the Court will may find at some point that there may be sanctions against the government's lawyers for  their egregious actions.
"This is not about mistakes," countered Jared Wheat, CEO of Hi-Tech Pharmaceuticals. "This is not about negligence. This is not about incompetence. This is about intentional wrongdoing." Hi-Tech looks forward to its long awaited victory in the coming months, and felt it was long overdue to share with our consumers how this case evolved.
Stay tuned to our DMAA Lawsuit page – more updates are coming.