Monster Energy is set to release their no nonsense, ready to drink energy supplement, Muscle Monster. With no other preparations needed, Muscle Monster hopes to broaden their fan base and set a new standard for RTD energy supplements.
The BEST RTD on the Market?
Muscle Monster packs quiet a lot of energy in 16 ounce cans. Ready to drink supplements have gained ground after companies like Monster Beverage Corporation started producing RTD extremely affordable and highly nutritious products.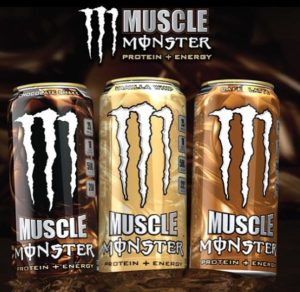 Each can contains two servings which you can divide for pre workout and post workout nutrition. If you're in need of a great pick me up drink, one can of Muscle Monster will energize you throughout your workout.
Energy Boost
Each serving gives you about 90 calories of energy or almost 200 calories in one serving. Some bodybuilders and athletes on a cutting diet might want to pass on this one, however, studies show that if you really want to burn fat, you need to burn fresh calories from your diet to get your body going.
Sustained Energy
Once you get your body going with a quick 200 calorie energy boost, Muscle Monster helps you unlock your glycogen and fat stores with a proven ingredient.
One serving contains about 81 milligrams of Caffeine, making one can approximately 160 milligrams. Now caffeine has been studied extensively and has been proven to help the body break down fat. The calories you get from your own stores have double the benefit compared to drinking or eating food.
Clean, Smooth and Jitter free Energy
Muscle Monster will give you great energy with caffeine. Just to help you avoid caffeine overdose or Caffeinism, it is best that you reduce intake of caffeine containing food such as coffee, tea or chocolates. The right dose at the right time such as before a workout can help you harness the benefits of caffeine.
Just a little bit of reminder, mixing Muscle Monster with other pre workout supplements might tempt you. However, choose non stimulant (such as Caffeine) containing pre workout supplements like Jack3d Micro or HEMAVOL.
Amino Acid Profile
Muscle Monster isn't just an ordinary energy supplement. One can gives you about 25 grams of protein from skim milk or calcium caseinate.
The protein serving is there to provide you additional energy as each gram gives about 4 calories. However, its real role is to make sure that you don't burn your own muscle proteins by mistake. Studies have shown that taking protein before a workout spares your muscles during strenuous activity.
The Best Tasting RTD Yet
RTD supplements have gained a reputation of tasting like a bad combination of chalk and medicine. Monster Beverage Corporation wanted to break free from the mold and created Muscle Monster with your taste buds in mind.
The texture is like skim milk which means it goes down smooth and silky. This silky texture means that the ingredients are distributed evenly and will be easily digested for faster absorption than regular RTD brand.
Flavor wise, the chocolate drink is a big favorite among bodybuilders and athletes. It tastes almost like the real thing which can help you sate your sweet tooth and keep you on your diet.
We're still waiting for Monster to release their product online. If you'd like to receive notifications via email for this release, use the form below.